The original MacGyver, which ran on ABC from 1985 to 1992 was an adventure drama about an ex-secret agent who uses his investigative skills and prowess with gadgets to ferret out bad guys on missions for his justice-seeking employer. Richard Dean Anderson's cerebral crusader, Angus MacGyver, was memorable enough to keep the nostalgia fires burning for decades.
The show distinguished itself at the time from the pack of other action shows of the era thanks to its unique science-bent hero. MacGyver is a clever, admirable hero who prefers to use his smarts to defeat his opponents. Although he does occasionally need to hit some bad guys, MacGyver is known more for his brains than his brawn. A character who avoided guns and used his intelligence and the tools surrounding him to work his way out of trouble.
The clever solutions MacGyver implemented to seemingly unsolvable problems‍, often in life-or-death situations, requiring him to improvise complex devices in a matter of minutes‍. This was widely praised for generating interest in the applied sciences, particularly engineering, and for providing entertaining unique storylines.
The show was conceived by three men: Lee David Zlotoff, one of the producers of Remington Steele; Emmy-award winning director John Rich; and Henry Winkler – the Fonz on Happy Days. The show ran for seven seasons on ABC in the United States and various other networks abroad from 1985 to 1992. The series was filmed in Los Angeles during seasons one, two and seven, and in Vancouver during seasons three through six.
The plot follows Anderson's former Vietnam bomb disposal expert turned secret agent working first for the US government's Department of External Services and then for the private sector Phoenix Foundation, investigating all manner of dangerous subjects both professionally and personally.
The MacGyver theme is iconic. Besides Anderson's mullet, the intensely catchy theme tune is probably the most memorable thing about the show. The theme is etched in our collective minds with the visual of the MacGyver logo with an explosion in the background.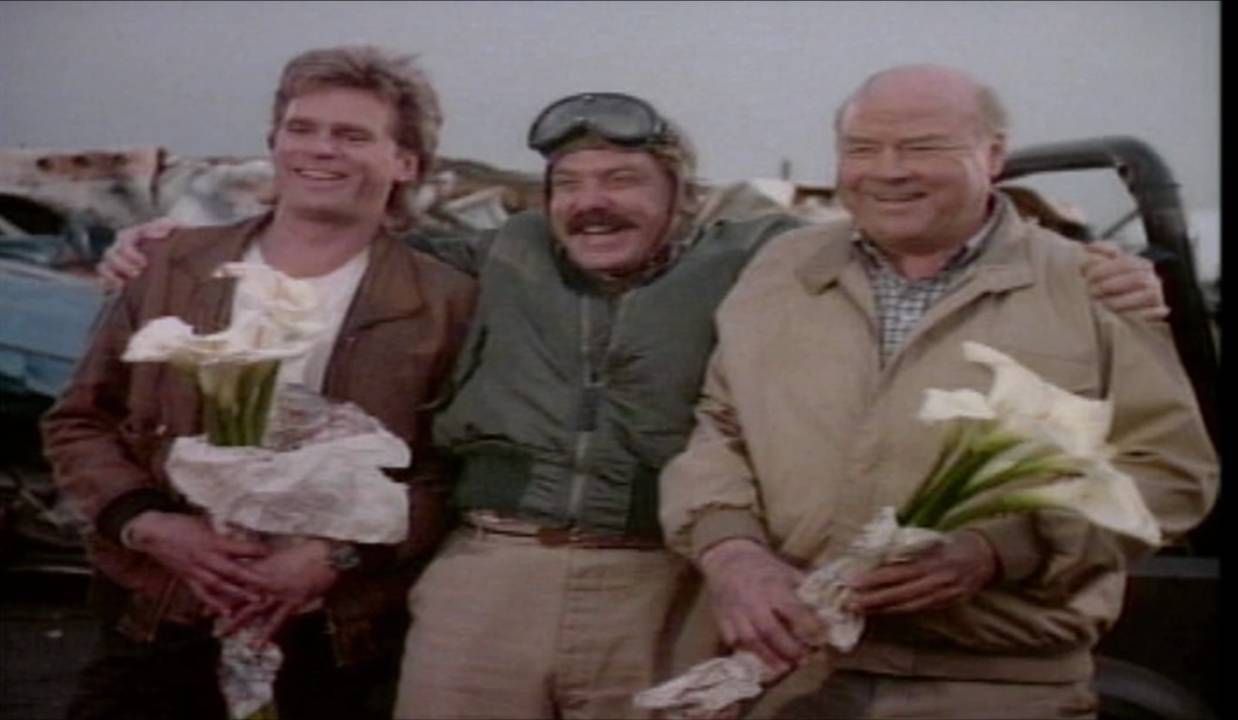 Besides Richard Dean Anderson as Angus MacGyver, the show stars Dana Elcar as Pete Thornton, MacGyver's boss, and best friend. He was an operative at the Department of External Services (DXS), which is where he is impressed by Mac's ingenuity while tracking down Murdoc (Michael Des Barres), an international assassin and master of disguise. When Thornton becomes director of operations at the Phoenix Foundation several years later, he brings MacGyver into the program. In 1991, in the middle of filming MacGyver, Elcar began to develop glaucoma. The creators of the show actually worked his condition into the series: In season six, Peter Thornton also starts to struggle with glaucoma, and in "Hind-Sight," the season finale, Thornton's eye surgery is used as a framing device to produce a clip show.
The show also often feature Bruce McGill as Jack Dalton, MacGyver's more comical best friend. A soldier of fortune/bush pilot who periodically gets everyone into a heap of trouble with various get-rich-quick-schemes out of which only MacGyver can rescue them.
Other notable actors include Robin Mossley who portrayed Wilt Bozer, Angus' neighbor at the marina, for the first three seasons of MacGyver. Elyssa Davalos joined the cast of MacGyver in the third season as agent Nikki Carpenter. Michael Des Barres played Murdoc, MacGyver's longest-running nemesis on the series. Murdoc is both a master of disguise and a master assassin who can take out anyone he wants to … except for MacGyver. Teri Hatcher had a recurring role as Penny Parker in MacGyver between 1986 and 1990. Cuba Gooding Jr. appeared in four episodes of MacGyver as Billy Colton. Mayim Bialik who played the titular lead of the hit TV show, Blossom, landed the role of Lisa Woodman on three episodes of MacGyver.
Richard Dean Anderson's next big role after Macgyver would come in 1997 when he portrayed Jack O'Neill in Stargate SG-1. While he has had other roles in the years since then, he hasn't exactly put MacGyver completely behind him. He played himself in The Simpsons episode "Kiss Kiss, Bang Bangalore," in which he is kidnapped by Patty and Selma Bouvier, Marge Simpson's MacGyver-obsessed sisters. In 2009, he played MacGyver in two episodes of Saturday Night Live where he had the chance to act alongside Will Forte playing MacGruber, an explicit parody of Anderson's most famous role.