Big Trouble in Little China from 1986 is a John Carpenter outlier in the director's filmography, a martial-arts adventure slash monster-comedy extravaganza that suggests an Indiana Jones movie that's been mounted on a more intimate scale. The movie is a martial arts fantasy set in a modern-day (i.e. circa the 1980s) Chinatown where the mundane crosses paths with the magical. It's a tribute to the Hong Kong sword and sorcery genre, in the spirit of efforts like Tsui Hark's Zu: Warriors From Magic Mountain.
The John Carpenter film has gained cult status over the decades. But when the film was released back in the summer of 1986, Big Trouble was a major box office disaster grossing $11.1 million in North America, below its estimated $19 to $25 million budget. It received mixed reviews that left Carpenter disillusioned with Hollywood and influenced his decision to return to independent filmmaking. It has since become a cult classic and has a 75% average rating on Rotten Tomatoes and a steady audience on home video.
The film's main protagonist Jack Burton (Kurt Russell) is a truck driver with a John Wayne bluster who talks tough and has authentic courage while having no clue what he's doing. Kurt made Burton cocky yet completely out of his league. He is cooky but charming – perhaps somewhat reminiscent of Han Solo. It's amazing how loose and charming a screen adventure can be when filmmakers are willing to play around and deflate a hero's pomposity, even if they ultimately enjoy it.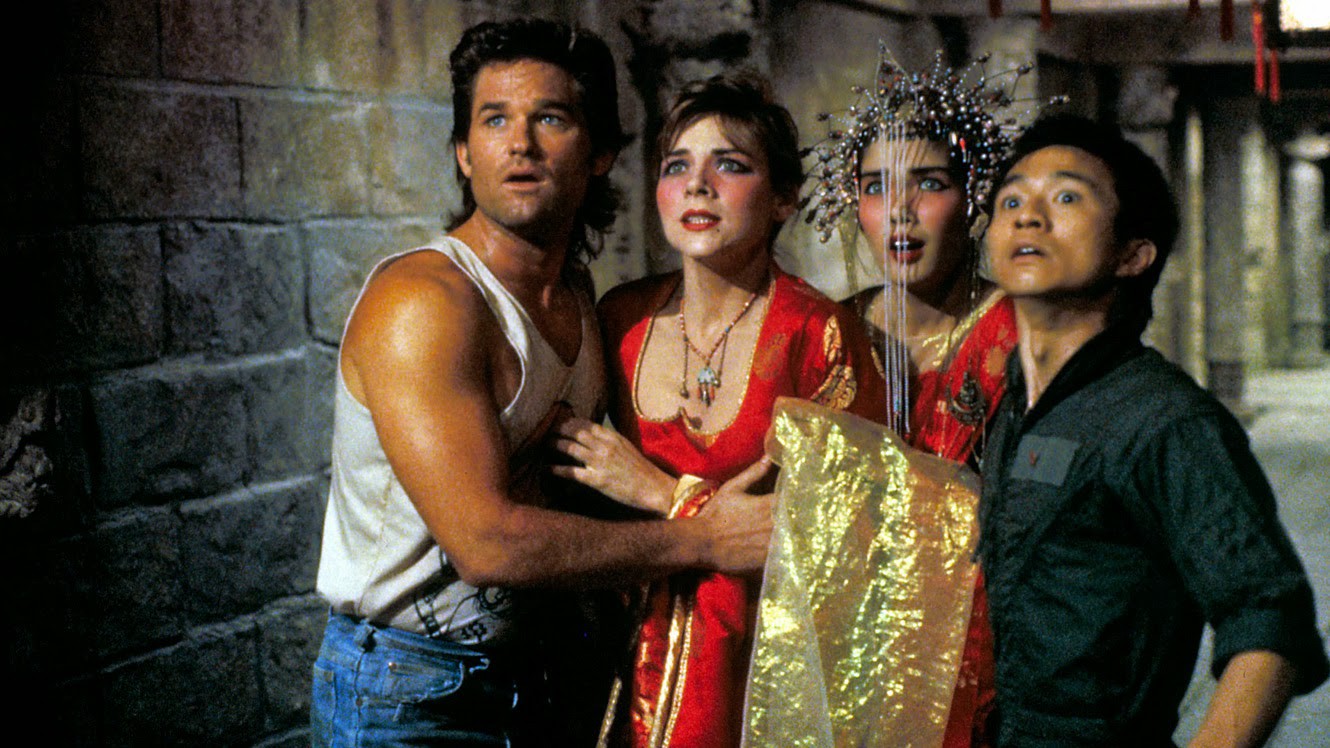 Set mostly in a magical world under San Francisco which is populated by monsters, magicians, and masters of mystic martial arts, it mixes straight he-man heroics and kung fu action with wonderful weapons, acrobatic stunts, and special effects trickery.
The story focuses on the buddy pairing of rough-necked truck driver Jack Burton (Kurt Russell) and Chinese restaurant worker and friend, Wang Chi (Dennis Dun). Wang plans to propose to his childhood sweetheart, the green-eyed Miao Yin (Suzee Pai), who is coming to the United States from China. However, things go awry when she is kidnapped and Jack and Wang find themselves battling a supernatural foe who is also after Miao Yin for his own nefarious purposes.
Despite the half-drunk, what-the-hell atmosphere, the humans in Big Trouble in Little China do register, which prevents this film from being as meaningless as genre pastiche-parodies. Russell, with his gloriously cuckoo timing and absurd tank top, is the center of the narrative, but Dun, Cattrall, Pai, Li, and Wong have a poignant agency as well as an intergroup chemistry
Although the original screenplay by first-time screenwriters Gary Goldman and David Z. Weinstein was envisioned as a Western set in the 1880s, screenwriter W. D. Richter was hired to rewrite the script extensively and modernize it. The studio hired Carpenter to direct the film and rushed Big Trouble in Little China into production so that it would be released before a similarly themed Eddie Murphy film, The Golden Child, which was slated to come out around the same time. The project fulfilled Carpenter's long-standing desire to make a martial arts film.
Cast: Kurt Russell, Dennis Dun, Kim Cattrall, James Hong, Victor Wong, Kate Burton, Donald Li, Carter Wong, Peter Kwong, Suzee Pai, Chao Li Chi, James Pax, Jeff Imada, Craig Ng Director: John Carpenter Screenwriter: Gary Goldman, David Z. Weinstein, W.D. Richter
Big Trouble in Little China (1986)