"HYDRA created a world so chaotic that humanity is finally ready to sacrifice its freedom to gain its security. Once the purification process is complete, HYDRA's new world order will arise. We won, Captain. Your death amounts to the same as your life. A zero-sum."
― Arnim Zola to Captain America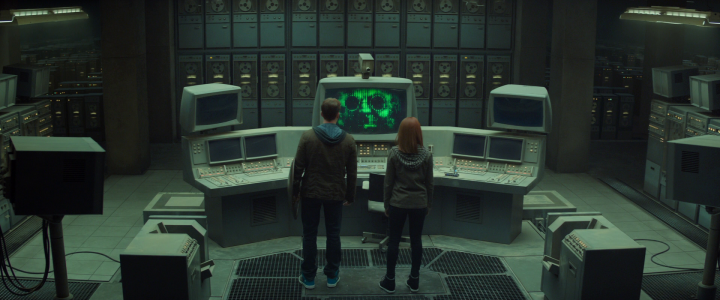 After receiving a "terminal diagnosis" in 1972, Swiss HYRDA agent Arnim Zola (Toby Jones) found a way to preserve his brain patterns via endless amounts of magnetic computer tape and transcended death as artificial intelligence. Using the very best 70s technology his uploaded consciousness allowed him to live after his physical death on a retro-style computer. Zola informs Steve Rogers and Natasha Romanoff about HYDRA's infiltration of SHIELD after World War II and does a great job of distracting the heroes almost long enough to get the drop on them.
"I'm afraid I've been stalling, Captain. Admit it, it's better this way. We are both of us, out of time."
― Arnim Zola to Captain America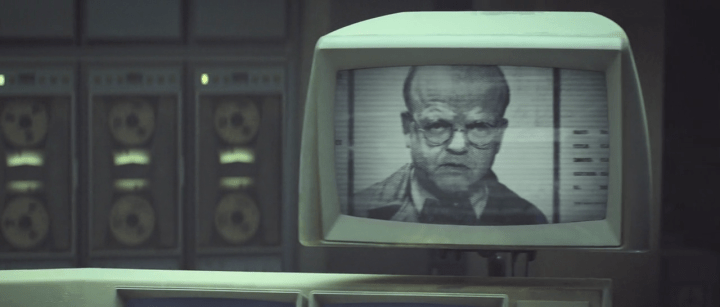 Addressing Captain America (Chris Evans) and Black Widow (Scarlett Johansson), Zola describes how seven decades of world history has been subjected to interference by the renegade Nazi organization HYDRA, spreading chaos and uncertainty so that humanity would give up its freedom for order and safety.
The Winter Soldier is clearly inspired by iconic Hollywood conspiracy thrillers from the 1970s such as Three Days of the Condor (1975) and All the President's Men (1976). It is a paranoid and pessimistic tradition and this scene with the A.I version of Arnim Zola invokes the broader narrative of a notional 'crisis' as in the 1970s.
Zola's Computerized Consciousness in Captain America: The Winter Soldier (2014)
We like:
That the Russo brothers expertly use modern moviemaking techniques, with relatively minimal CGI, to meld aspects of the best classic espionage thrillers of the '70s and the fast-paced action of the current superhero flicks.
It has plenty of very well directed action sequences and very well developed characters.