Never Back Down is a movie from the sliver in time in 2008 when mixed martial arts was still a dangerous, mind-blowing form of competitive fighting. The movie is similar to The Fast and the Furious, in the sense that you can feel how excited the movie is to introduce an audience to previously underground culture and cool-sounding words like "the octagon."
The movie includes every fighting movie cliché in the book. It is a typical movie about the underdog that must beat the championship fighter and win the girl. 'The girl' and love interest is played by Amber Heard, whose name is Baja.
In short, Jake (Sean Faris) is a misunderstood teen with a temper, is the new kid in school. There, he's bullied by the popular kid, Ryan McCarthy (Cam Gigandet). As it turns out, Ryan is into MMA and after getting pummeled several times by Ryan, Jake determines that the only place to take him on is in the ring. To do so, Jake needs to learn how to really fight. So, our hero's journey begins.
The day after Jake gets the crap beaten out of him at a party, Jake accompanied by his new geeky friend Max (Evan Peters) visits a gym for a little training. There, a big, black version of Mr. Miyagi named Jean Roqua (Djimon Honsou) takes Jake under his wing and prepares him for the inevitable re-match.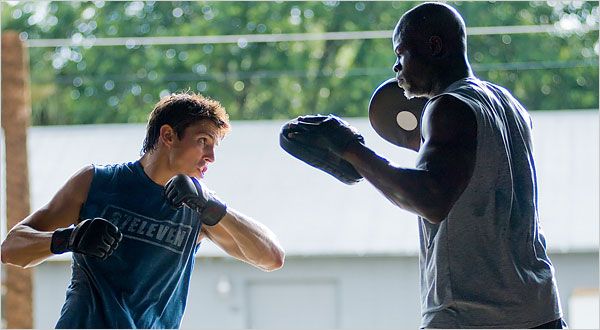 Taking on a bully is a very pure reason for a training montage. Jake's training features some classic beats — the chugging of raw eggs, endless sparring — Jake is instructed to continually throw cinder blocks as far as he can — so there's not too much out of the ordinary.
The song "False Pretense" by the Red Jumpsuit Apparatus is playing in the background. Perhaps not only a good fit for the weird, post-alternative, semi-emo trend that happened in the mid-2000s, but the lyrics are absurdly on point. "The world's got a funny way of turning 'round on you," is the first line of the song, and also the encapsulation of Jake's entire worldview. And then repeats the word "sacrifice" over and over, which is exactly what Jake is doing during this montage scene.
If the purpose of this movie is to recycle a stock plot and present it unchanged with different actors going through the motions and mouthing lame dialogue, then Never Back Down does what it's intended to do, and director Jeff Wadlow hits the mark.
Nevertheless, Never Back Down is actually entertaining at times. Sure, the acting is pretty bad and it did feel like an adult version of Karate Kid. The fight scenes are overly cinematic, but the choreography is quite good. If you can ignore the negatives and just enjoy the fights you will like it.
Never Back Down was directed by Jeff Wadlow; written by Chris Hauty; director of photography, Lukas Ettlin; edited by Victor Dubois and Debra Weinfeld; music by Michael Wandmacher; production designer, Ida Random; produced by Craig Baumgarten and David Zelon; released by Summit Entertainment. It stars Sean Faris (Jake Tyler), Amber Heard (Baja Miller), Evan Peters (Max Cooperman), Leslie Hope (Margot Tyler), Wyatt Smith (Charlie Tyler), Cam Gigandet (Ryan McCarthy), and Djimon Hounsou (Jean Roqua).
Advertisement
The Montage Scene in Never Back Down (2008)
0.00