"Rosebud" is one of the most famous lines in movie history, but it is not the only memorable aspect of this scene. Citizen Kane opens like a horror movie with layers of film piled on top of each other depicting an eerie wasteland set to haunting music.
The iron gates, the imposing castle on the hill, the free-ranging monkeys and resting gondolas cast in stark black and white. The opening scene is setting the tone for a tale of one man's quest for wealth, greed and power – loosely inspired by the real publishing tycoon William Randolph Hearst.
The utterance of one single word on a dying man's tongue – "Rosebud" – implies there are things more valuable, more essential for happiness than material goods. The scene creates so much interest and emotion at the start of the movie that makes this one of the most unforgettable movies of all time.
Citizen Kane (1941) was directed by the famous American actor, director, writer, and producer "Orson Welles" when he was just 25. It was Welles's first feature film. Considered by many critics, filmmakers, and fans to be the greatest film ever made. Even so, the film doesn't have anywhere near the mainstream reputation of beloved films such as Star Wars, The Godfather, Casablanca, Gone With the Wind or The Wizard of Oz — all movies on the AFI's list of the best 100 American films of all time, which Kane happens to top.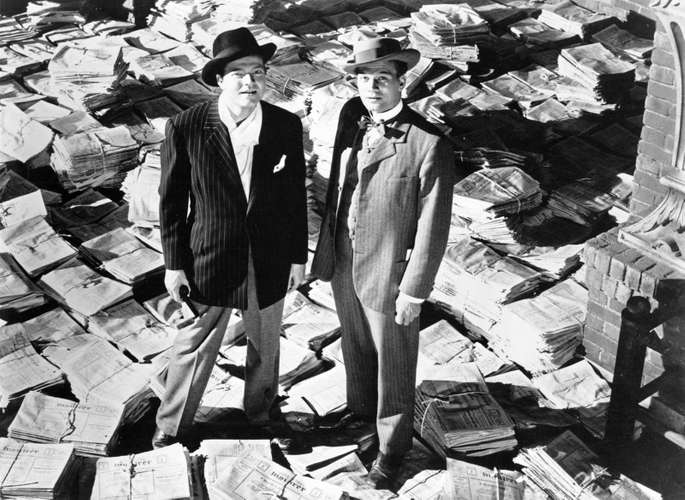 The quasi-biographical film examines the life and legacy of Charles Foster Kane, played by Welles, a character based in part upon the American newspaper magnates William Randolph Hearst and Joseph Pulitzer, Chicago tycoons Samuel Insull and Harold McCormick, and aspects of the screenwriters' own lives. Upon its release, Hearst prohibited mention of the film in any of his newspapers.
The movie's groundbreaking techniques under Welles direction—primarily the innovative lighting and focusing methods of cinematographer Gregg Toland and the dramatic editing style of Robert Wise—continue to influence filmmakers today. The film also benefited from an equally acclaimed supporting cast; headed by Welles it included Joseph Cotten, Dorothy Comingore, Agnes Moorehead, Everett Sloane, and Ruth Warrick. Citizen Kane was nominated for nine Academy Awards; Welles and Mankiewicz won for best original screenplay.
As a side note, many in Hollywood have long argued that "Rosebud" was a pet name for Hearst's mistress Marion Davies. That's all we're going to say on that.