The 2000 incarnation of Gone in 60 Seconds starring Nicolas Cage and Angelina Jolie may be the one movie more people remember these days, but it was director HB Halicki who got their first, with his 1974 low-budget, unknown car chase movie of the same name that never crossed the Atlantic.
The more recent version is an expensive remake and like its predecessor a typical heist movie. A type of movie that presumably appeals to producers partly because the bad guys are the heroes and partly because the genre, which is about relieving innocent people of their money, has a three-act structure that parallels the moviemaking process itself. First, you assemble a team; second, you execute a would-be perfect crime; third, there's an aftermath in which things fall apart and everyone and everything falls out – in a climax.
Nicolas Cage plays Randall 'Memphis' Raines who is California's greatest car thief – he is brought out of rural retirement to steal 50 special cars in 48 hours for a Latin American client. If he fails, his younger brother (Giovanni Ribisi) will be killed by the most vicious criminal in Los Angeles, an Englishman with a Liverpool accent (Christopher Eccleston) known as 'the Carpenter' because of his hobby of restoring antique furniture.
So Cage recruits a gang that includes Robert Duvall as the obligatory old-timer and Vinnie Jones as a mute morgue attendant known as 'the Sphinx'. They are joined by the new generation of car thieves: Kip's mates Tumbler (Caan), the fast-talking Mirror Man (Cross), and tech guru Toby (Scott). The teams combine to mix old-school methods with new-school technology in an attempt to fill their quota. He plans a meticulous robbery and crosses swords along the way with a car-theft policeman (Delroy Lindo) who's been trying to nail him for years.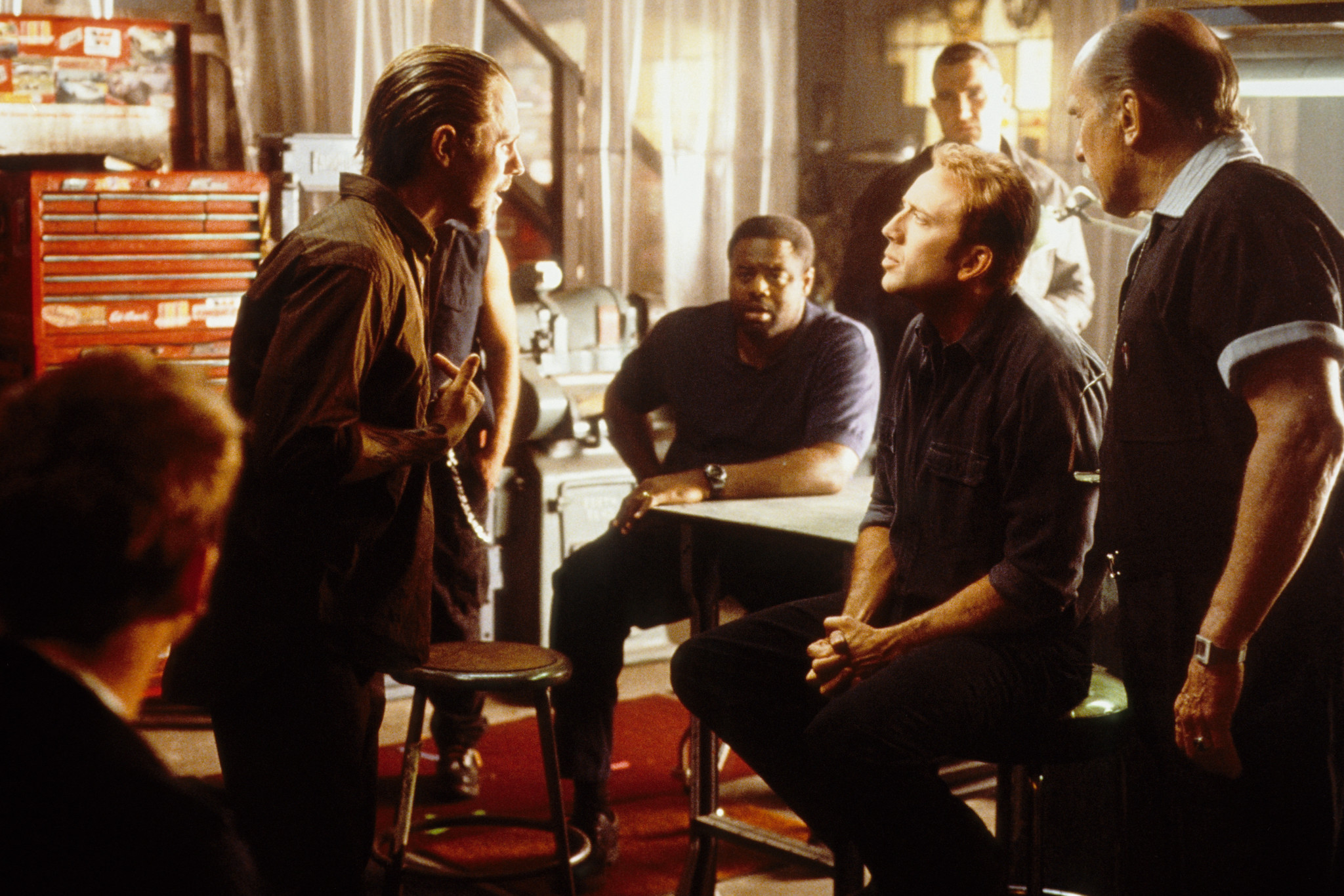 The crew has 12 hours to steal and deliver the 50 cars – a tall order for sure – but the dark shadow presiding over the success of the job is safely securing one car in particular: a 1967 Shelby Mustang codenamed 'Eleanor'. It's the one model that's proved elusive throughout Memphis's career. The Eleanor 'Stang becomes the focal point for the film's climax, with stunts and action aplenty as Memphis wheels his way through Los Angeles to a Long Beach shipyard.
The characters are somewhat uninspiring and take second place to the expensive sports cars and customized classics they're stealing. When the only girl in the mob (Angeline Jolie) asks Cage: 'What do you think is more exciting – having sex or stealing cars?', the brilliantly witty answer is: 'Having sex while stealing cars.'
The 'Eleanor' custom Shelby fastback has become something of a screen legend in its own right, inspiring many a two-door midlife crisis re-creation since the film's release. The original "Eleanor" is a customized 1971 Ford Mustang Sportsroof (redressed as 1973) and features in both the independent filmmaker H. B. "Toby" Halicki's 1974 film Gone in 60 Seconds. The Eleanor in the 2000 remake is a Dupont Pepper Grey 1967 Ford Mustang fastback, depicted as a Shelby GT500, with a customized body kit designed by Steve Stanford.
Gone in 60 Seconds stars Nicolas Cage, Angelina Jolie, Giovanni Ribisi, Christopher Eccleston, Robert Duvall, Vinnie Jones, Delroy Lindo, Chi McBride, and Will Patton. The film was directed by Dominic Sena, written by Scott Rosenberg, and produced by Jerry Bruckheimer.