Hagrid is one of the most loved characters in the Harry Potter series, created by J.K. Rowling. He was born on December 6, 1928, and began at Hogwarts in 1940. He is a half-giant, son of Mr. Hagrid and the giantess Fridwulfa. He has a younger half-brother named Grawp. Hagrid was expelled from the Hogwarts School of Witchcraft and Wizardry in his third year after being accused of opening the Chamber of Secrets (actually opened by Tom Dolder).
Albus Dumbledore arranged with the then principal Armando Dippet so that Hagrid could stay at the school as a forester, which has made Hagrid have become extremely loyal to Dumbledore. Hagrid had her wand broken by the ministry and is therefore not allowed to use magic. Despite this, he still does it secretly with his pink umbrella, which contains the pieces of his broken magic wand.
In 1991, Hagrid was given the task of reintroducing Harry Potter to the wizarding world. In 1993, Hagrid would assume the post of Care of Magical Creatures professor after the retirement of Professor Silvanus Kettleburn. As a member of both the original and the re-instated Order of the Phoenix, Hagrid fought in several battles of the First and the Second Wizarding Wars, including the Battle of Hogwarts in 1998.
Hagrid is introduced in the opening chapter of the first novel. Following the death of James and Lily Potter, Dumbledore entrusts Hagrid with rescuing the infant Harry from his parents' house after they have been murdered by Lord Voldemort. When Minerva McGonagall expresses her concern about the fact that it was Hagrid who would carry Harry to the Dursleys', Dumbledore says that he would trust Hagrid with his life, a fact that is demonstrated several times during the series, as Dumbledore frequently asks him to carry out secret tasks. Ten years later, he is tasked to bring the Philosopher's Stone from Gringotts to Hogwarts and provides the three-headed dog Fluffy to guard it. Dumbledore also gives him the task of locating Harry, helping him to find his bearings in the wizarding world and to buy his school things.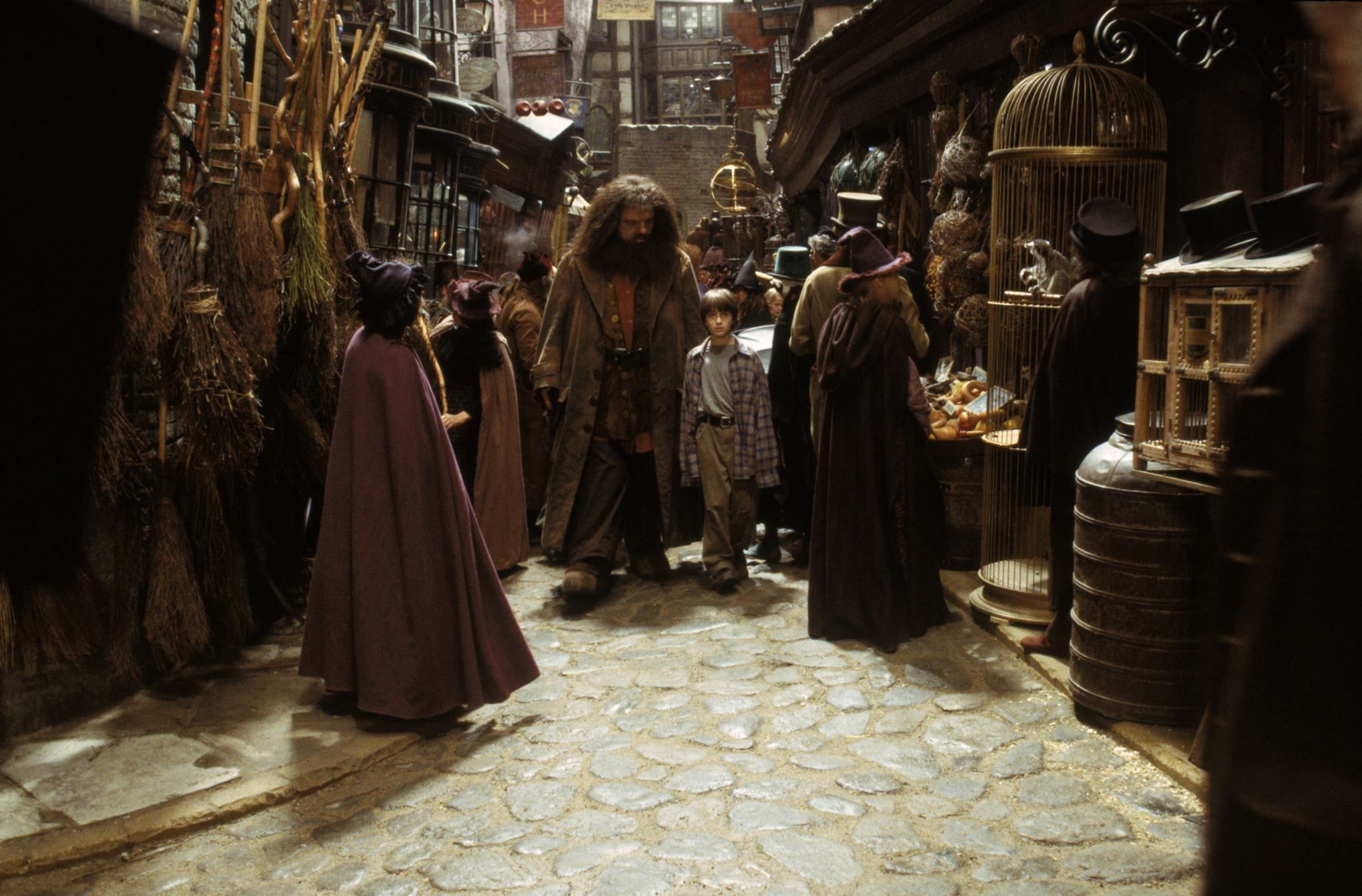 Scottish actor Robbie Coltrane has portrayed Hagrid in all of the film adaptations of the Harry Potter novels. Rowling had wanted Coltrane for the role from the start, responding "RobbieColtraneforHagrid" all in one quick breath when asked who was the top of her list of casting choices. Coltrane was already a fan of the book and has commented that being part of the Harry Potter franchise was "a fantastic thing." Former English rugby union player Martin Bayfield portrayed Hagrid as a stunt performer in longer shots due to his large size to emphasize Hagrid's height. Bayfield also appeared as a young Hagrid in Harry Potter and the Chamber of Secrets.
Hagrid was among the characters that J. K. Rowling created, she has said that he was created "the very first day". Apparently, the source of his name as "another old English word, meaning – if you were hagrid – it's a dialect word – you'd had a bad night. Hagrid is a big drinker – he has a lot of bad nights." His first name, Rubeus, was named after red in Latin to reflect alchemy and his paternal contrast to Albus Dumbledore: his "passion" to Dumbledore's "asceticism".
In her article "Harry's Fame", Rosemary Goring notes the Forest of Dean is an influence on Rowling's work, and Hagrid is the only character that is "directly drawn from the Forest of Dean". According to Goring, Hagrid's "dropped word-endings are a Chepstow specialty." She also claims that Hagrid is physically "modeled on the Welsh chapter of Hells Angels who'd swoop down on the town and hog the bar, 'huge mountains of leather and hair".
When discussing the killing off of characters in her books, Rowling said that she always knew she was "working towards the point where Hagrid carried Harry out alive – but supposedly dead – out of the forest". She said she had planned from very early on that Harry would walk to his death accompanied by the 'ghosts', and that "he would emerge in Hagrid's arms". In her own words, "that's what always kept Hagrid safe". She said "Hagrid would have been a natural to kill in some ways", but that the mental image of this moment – a big fatherly Hagrid carrying the limp Harry in his arms – was so strong it decided his fate. She also liked the circular notion of Hagrid both bringing Harry into the world, and then bringing him back from the dead.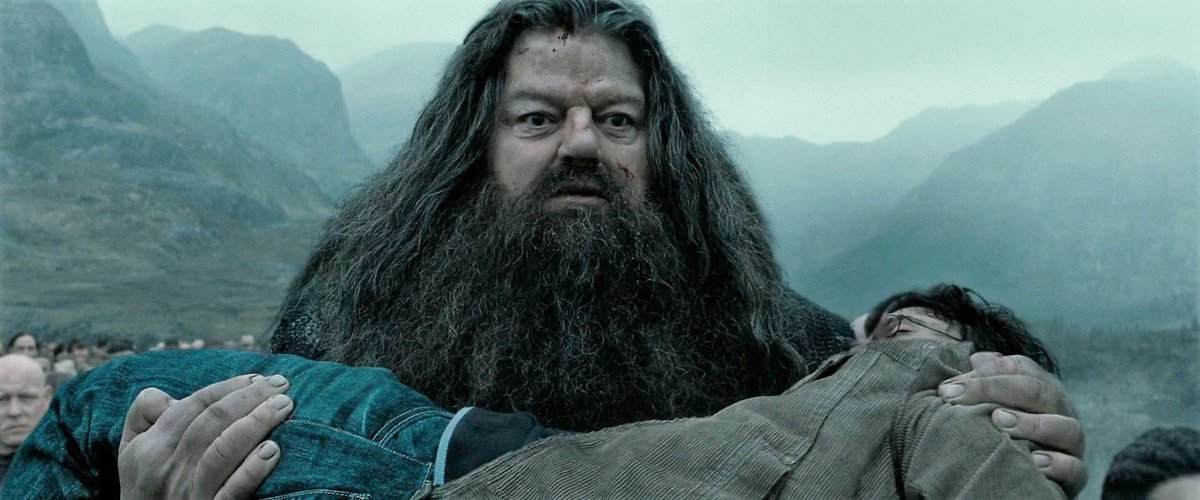 Hagrid in the Harry Potter films (2001-2011)
We like:
IGN listed Hagrid as their thirteenth top Harry Potter character, saying that Hagrid had become a surrogate for the audience and that the short scene in the Harry Potter and the Goblet of Fire film where he recollects memorable moments with Harry, Hermione and Ron gave them a "cherished memory".