The fifth installment (chronologically) of the Star Wars franchise, The Empire Strikes Back is by some regarded as the best movie in the franchise. Despite the success of the original, creator George Lucas seemed to have taken some of the criticism to heart and took a back seat for the follow-up, handing over the directorial reigns to his old film school professor Irvin Kershner.
Leigh Brackett and Lawrence Kasdan wrote the screenplay, with George Lucas writing the film's story and serving as executive producer. It starred Mark Hamill, Harrison Ford, Carrie Fisher, Billy Dee Williams, Anthony Daniels, David Prowse, Kenny Baker, Peter Mayhew, and Frank Oz.
The Empire Strikes Back really was a significant technological achievement for the time of its 1980 release. The film introduced the famous AT-AT walker vehicles to the Star Wars universe and featured several exciting fight sequences, some much more complex than those found in its predecessor.
The film brings along another of the greatest and most iconic training montages of all time. With the rebel alliance overpowered by the Empire, Luke (Mark Hamill) seeks out Jedi training from the Jedi master himself, Yoda (voiced by Frank Oz), in hopes of defeating Darth Vader (David Prowse).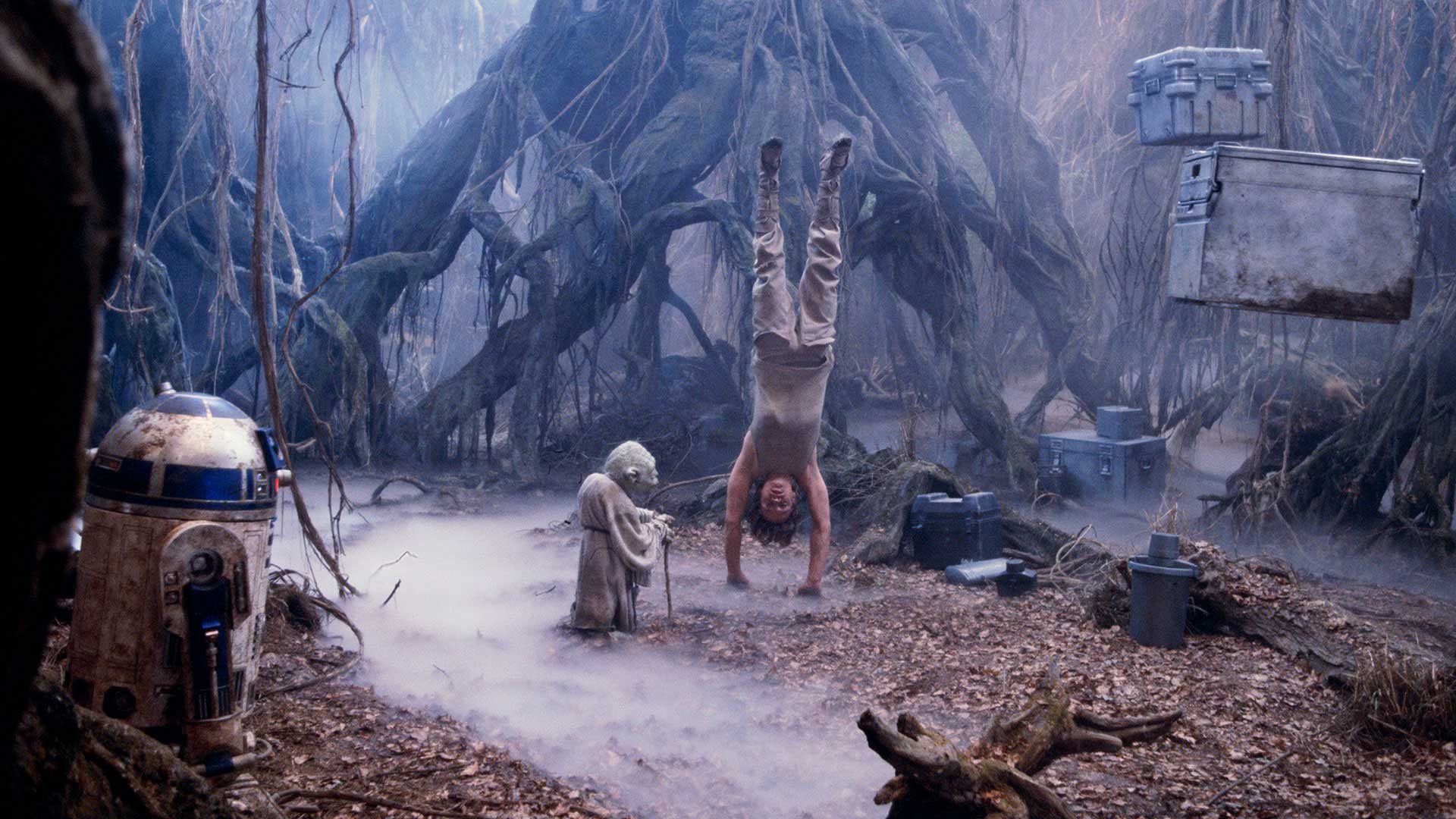 Becoming a Jedi is no easy feat, and that is proven over the course of the training scenes on Dagobah. The mysterious, swampy background environment is complementary and effectively enhances the confusing nature of Luke's journey.
Luke undergoes a series of strength and agility tests, with Yoda coaching from his back. But the most important training here comes in the form of wisdom and patience, as Yoda must teach Luke to use the force "for knowledge and defense" and never for attack, and most importantly to let go of his anger.
Yodas lessons are challenging and full of wisdom, even for the audience. Among his many teachings, "Luminous beings are we, not this crude matter," remains particularly powerful. It's a reminder that all life is equal and connected, and only that understanding can lead to true selflessness. "Do. Or do not," may be Yoda's most famous line, but this lesson is the very core of Star Wars.
Immediately after Luke tries to levitate his X-wing from the Dagobah swamp — and fails — he tells his Master, "You want the impossible." With that, Yoda, less than half Luke's size, calmly raises the starfighter. "I can't believe it," says Luke. "That is why you fail," Yoda replies. It's a simple yet spellbinding moment that serves to reinforce everything Yoda had been trying to convey to his student.