Tom Cruise is one of the biggest movie stars of all time. He has been in the entertainment industry for over thirty years and bow in his fifties, Cruise remains a top talent and continues to appear in big-budget movies.
Cruise has become famous for his willingness to get physical and never shies away from doing his own stunts, in spite of the fact that many of them are dangerous. He has long insisted on doing his own stunt work in the Mission: Impossible series in particular; including that one time he scaled the world's tallest building, Burj Khalifa in Dubai, with suction cups.
Cruise trained for months to scale the world's tallest building, the Burj Khalifa in Dubai, with suction cups – to run back down the building sideways in a later scene. Tom Cruise did have life-saving wires attached when he shot the Burj Khalifa sequence in Mission: Impossible – Ghost Protocol. But when you're 800 meters (2600 feet) in the air, most normal people stop listening to that inner voice saying everything is going to be okay.
He trained on a four-story practice set that attempted to replicate the Burj, right down to the bright sunlight and hot glass. When it came time for the real thing, the shooting took four days.
"It was toward the end of the day when he first went out, and he was kind of messing around out there in a casual way, and I was talking with someone, and I kind of forgot about him,"
– Director Brad Bird told The New York Post.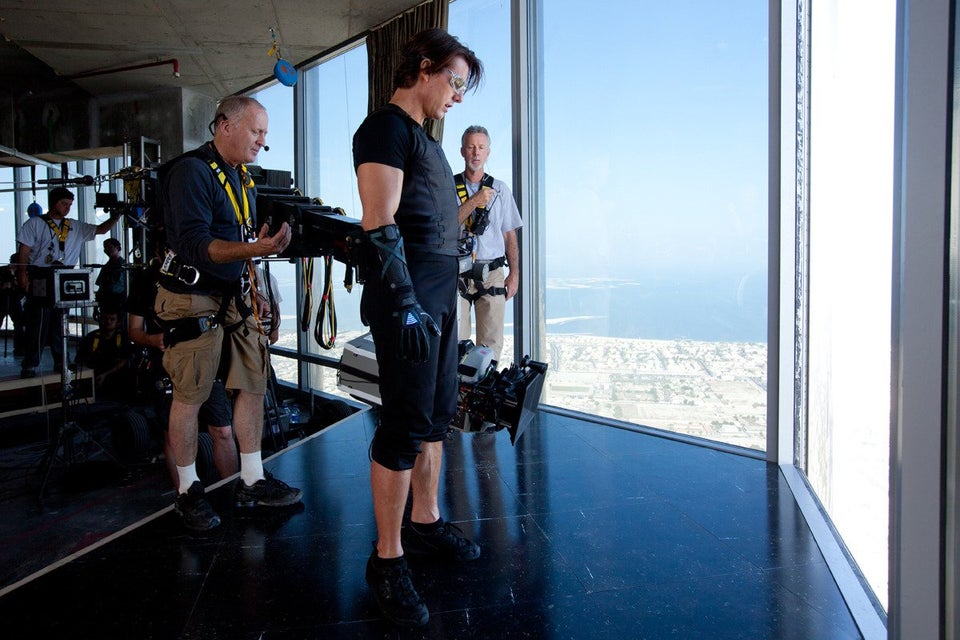 Cruise leaps and swings from atop the world's tallest building, and the part when he's running down the side of the building is full of giddy fun. Then the high-tech sticky gloves stop working and he's got to somehow get back to safety, the tension is unrelenting.
Mission: Impossible – Ghost Protocol (2011) was directed by Brad Bird and written by Josh Appelbaum and André Nemec. It is the fourth installment in the Mission: Impossible film series. Tom Cruise reprises his role of IMF agent Ethan Hunt, alongside Jeremy Renner, Simon Pegg, Paula Patton, Michael Nyqvist, Anil Kapoor and Léa Seydoux.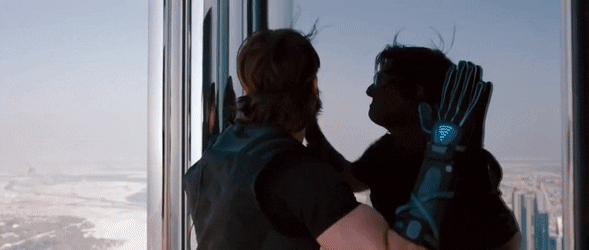 Climbing The Burj Khalifa in Mission Impossible: Ghost Protocol (2011)