When Iron Man was released in 2008, it stood out as a superhero movie with its own sense of style and its own way of doing things. That included dealing with the ever-important issue of Iron Man's secret identity.
The film wraps with Tony Stark holding a press conference to reassure the public that there's no ongoing danger posed by men in armored suits or out of control power reactors. Instead, Tony defies all suggestions and codes of superhero behavior by blithely admitting:
"I am Iron Man."
The scene package all of Tony Stark—the quirky, on-the-go quick talking, the vague flirtation, the pride, recklessness, narcissism, and raw charisma—into about two minutes. An ending that speaks to Tony's arrogant confidence and the fact that the fledgling Marvel Cinematic Universe wouldn't be sticking to the usual superhero-movie-formula.
The scene also effectively introduced what's become the defining role of a great career. The fact that Tony's last line transitioned perfectly into Black Sabbath's "Iron Man" was just the icing on the cake.
Iron Man was the first Marvel-produced movie under their alliance with Paramount, and John Favreau served as both the director and an executive producer. Favreau also appears as Tony Stark's driver, Happy Hogan.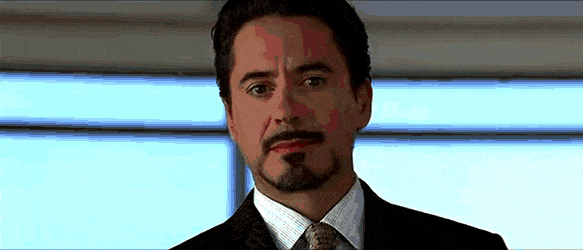 Without spoiling the recent Avengers movie, among the many callbacks that the Russos and writers Christopher Markus and Stephen McFeely worked into 'Avengers: Endgame', Tony Stark's remark to Thanos "And I… am… Iron Man!" just might be the greatest. According to Co-directors Anthony and Joe Russo, that scene was actually a last-minute addition to the movie.
"our editor Jeff Ford, who's been with us all four movies and is an amazing storyteller, said 'Why don't we just go full circle with it and say I am Iron Man.' And we're like, 'Get the cameras! We have to shoot this tomorrow.'"
– Co-directors Anthony and Joe Russo in an interview with Slashfilm, speaking about the scene in Endgame.