The fight at the end of Captain America: Civil War is easily one of the emotionally intense fights in the MCU. You better believe Tony Stark was fighting with the full intention of killing the Winter Soldier. There wasn't going to be a moment where the repulsors were charging up but Tony decides he just couldn't do it. If he got the chance to kill, he would take it. This fight was a character-defining moment for three separate Marvel mainstays.
Beginning with a flashback reminder of the gruesome car-crash death of Tony's parents when he was still in school, Civil War builds to a reveal engineered by the revenge-driven Zemo (Daniel Brühl): Stark watches security footage depicting the shocking truth that his parents were actually murdered by Bucky while the bionic soldier was brainwashed and under the command of Hydra. Immediately, everything is turned on its head. The climactic sequence finds Tony Stark (Robert Downey Jr) slugging it out with Steve (Chris Evans) and Bucky. The ending is probably the closest thing the MCY has ever come to bringing a big comics splash page to life.
Captain America Civil War has an emotional story and brings new Marvel characters in the spotlight. The Russos achieved an uncommon balance of plot and action, humor, and drama. With friendships and loyalties on the line, the film does a good job of showing how these tensions affect the characters we have gotten to know and love.
Captain America: Civil War (2016) was directed by Anthony and Joe Russo from a screenplay by the writing team of Christopher Markus and Stephen McFeely, and stars Chris Evans as Steve Rogers / Captain America alongside an ensemble cast including Robert Downey Jr., Scarlett Johansson, Sebastian Stan, Anthony Mackie, Don Cheadle, Jeremy Renner, Chadwick Boseman, Paul Bettany, Elizabeth Olsen, Paul Rudd, Emily VanCamp, Tom Holland, Frank Grillo, William Hurt, and Daniel Brühl.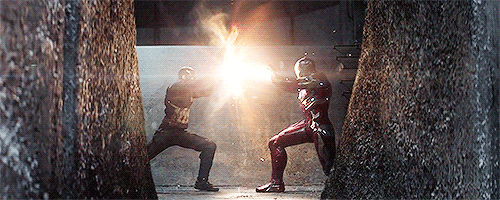 Iron Man vs. Captain America in Captain America: Civil War (2016)