Atey Ghailan is a concept artist and illustrator based in Los Angeles, California. He is currently working as a Senior Illustrator for video game developer, Riot Games.
Atey puts up videos every week on his youtube channel linked below, check it out!
Links: Portfolio | Twitter | Instagram | Youtube
Garden words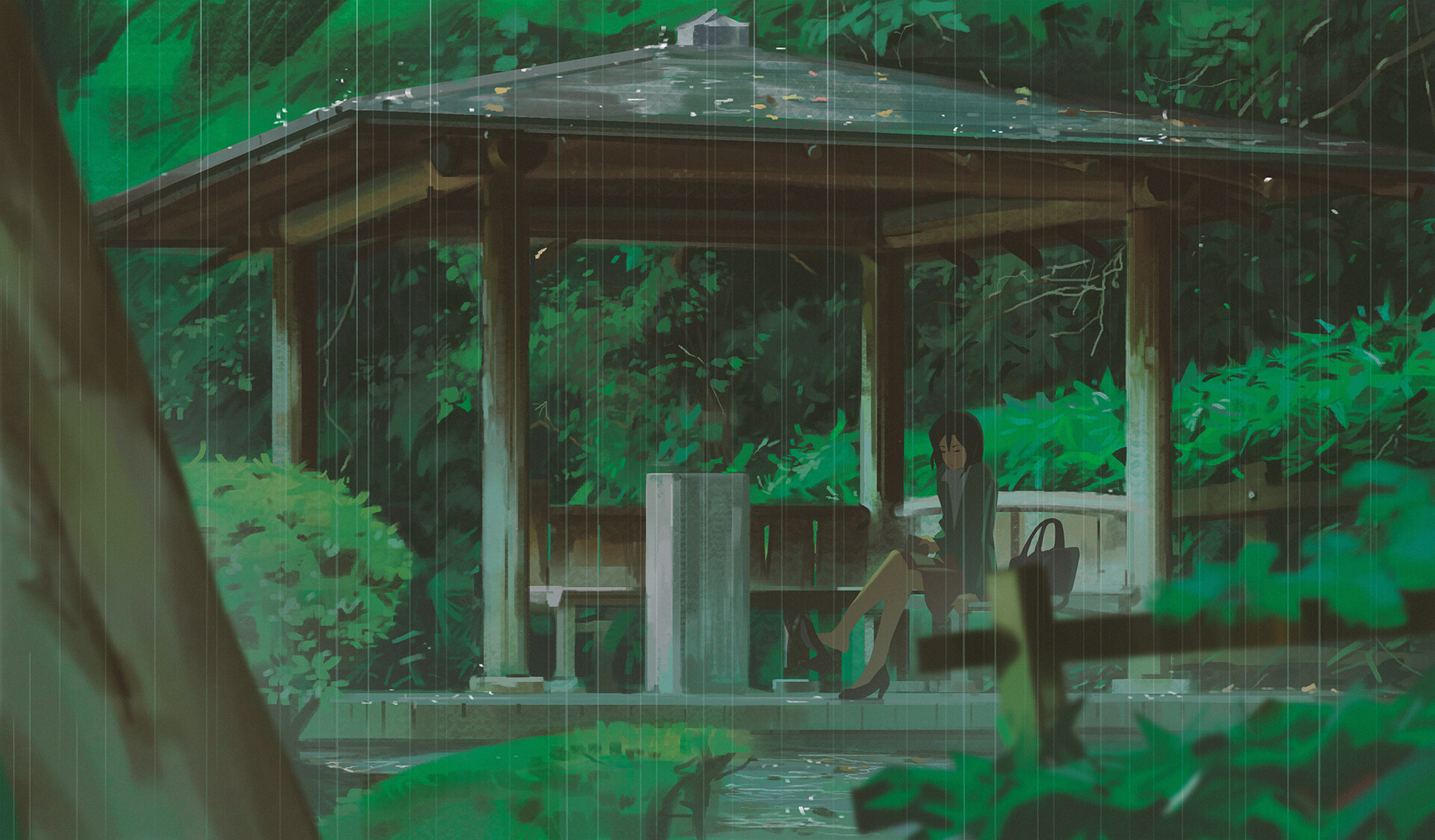 Corgi puppy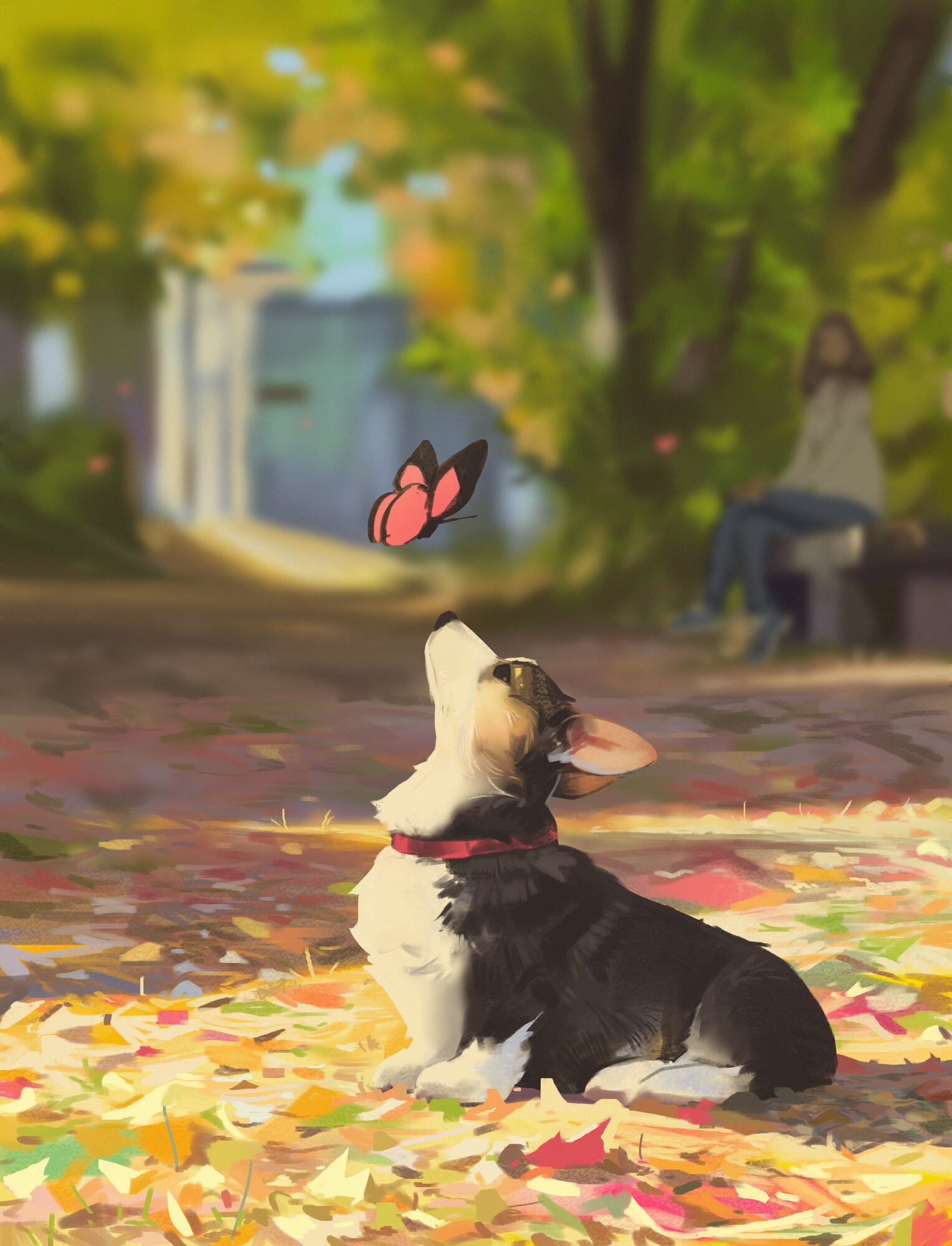 Boss fight
I recently took part in an art contest hosted by VaatiVidya. The contest was Elden Ring themed, and we had to create a possible boss for the game inspired by the folklore of our choosing. My inspiration came from Swedish folklore.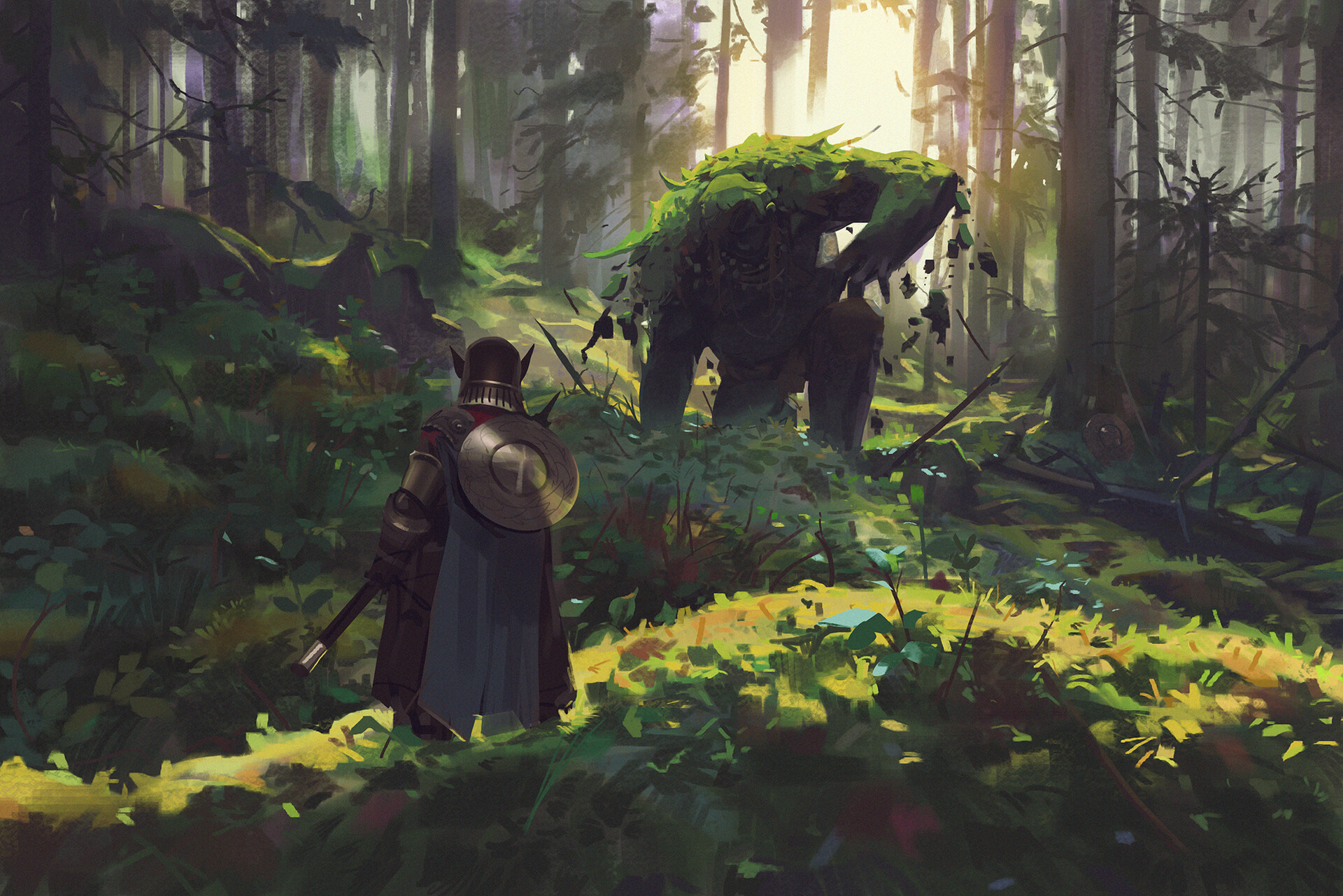 Colorful rain
Hey! just wanted to paint two of my favorite subject matters, rain, and dogs! was really fun!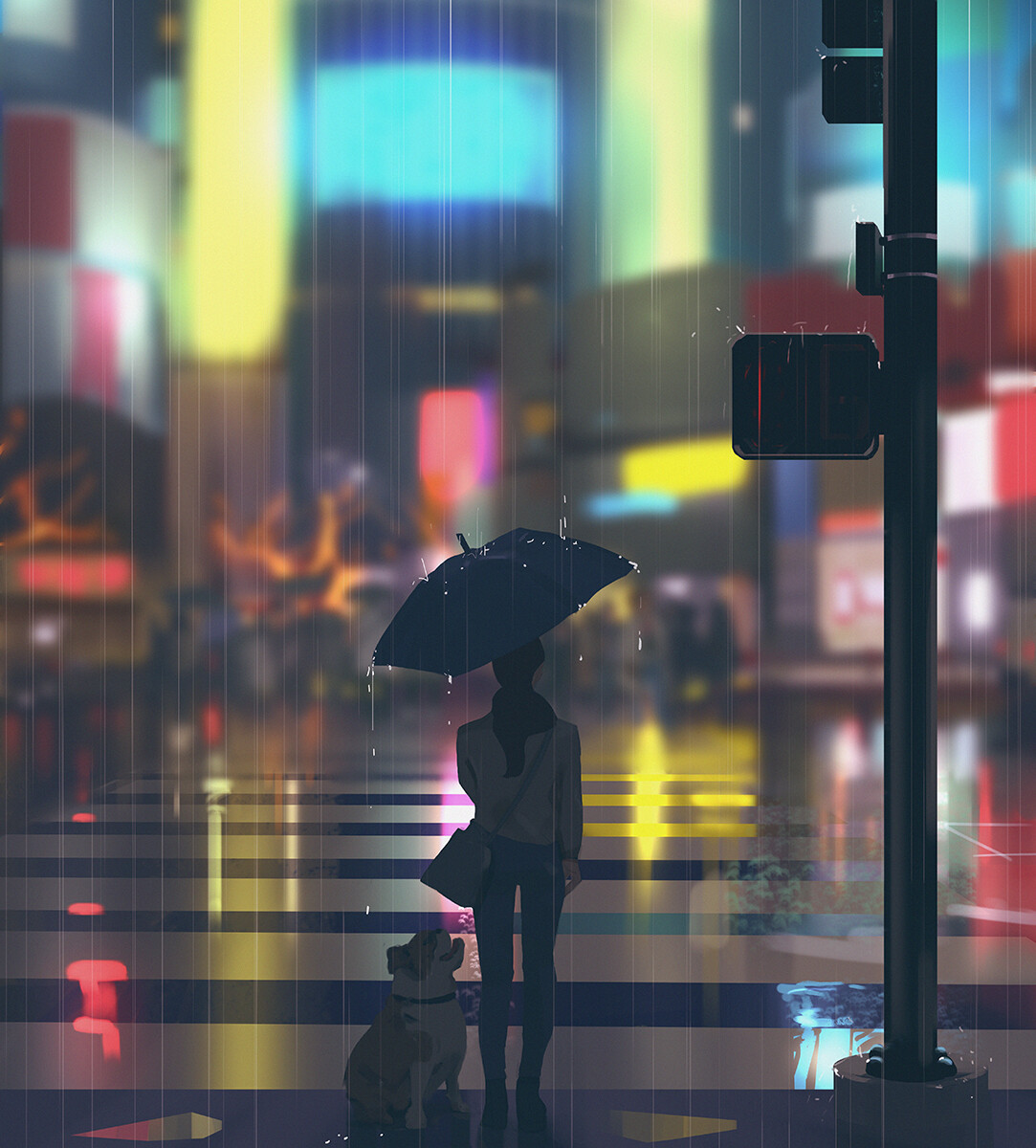 Diablo 4 Druid fanart
Super excited by the diablo 4 announcement, probably one of my favorite game franchises of all time and really liked how the druid looked, wanted to do a painting inspired by it.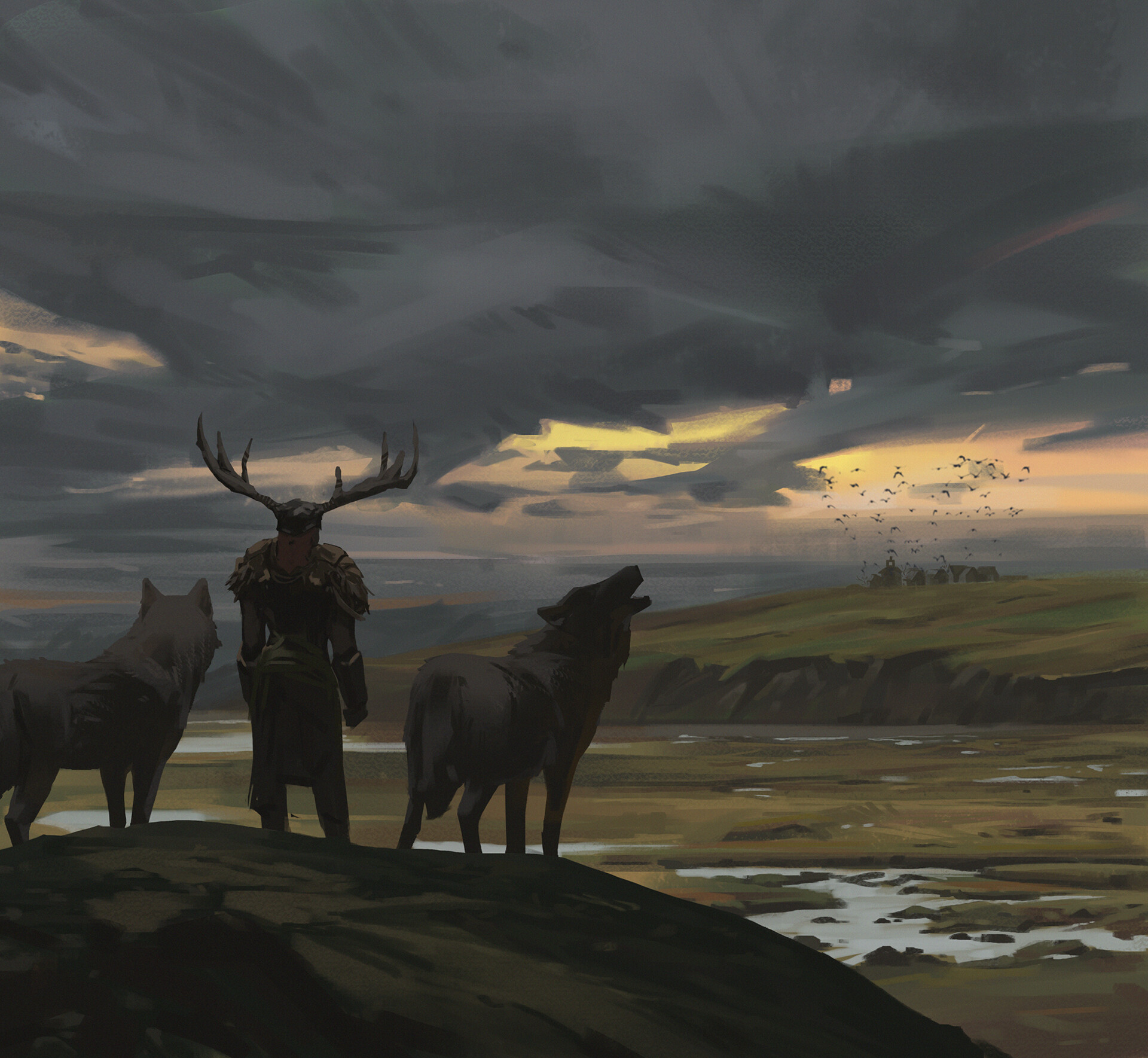 Princess Mononoke
Hey everyone, this is the last for the mini-series in for the studio ghibli theme I wanted to do, hope you enjoy the episode!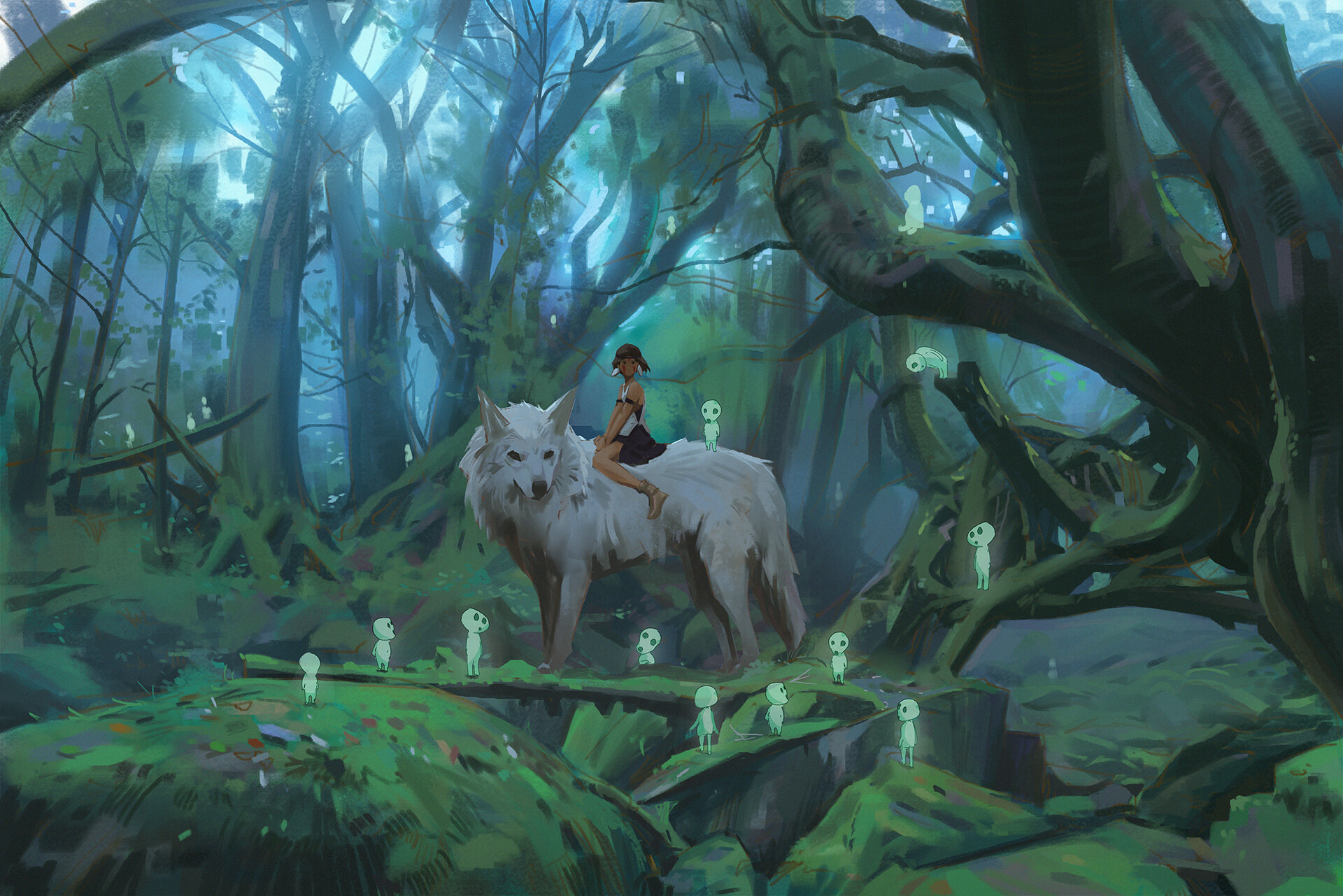 True Damage Qiyana – League of Legends
Hey everyone!
I'm super excited to share the True Damage splash I did for Qiyana. This might be one of the most fun illustrations I've done so far. A huge thank you to my amazing co-workers who have helped me with feedback and paintovers along the way and extra thanks to Alex for the unification pass. Keep your eyes open for the behind the scenes video I'll be posting on my Youtube channel in the near future.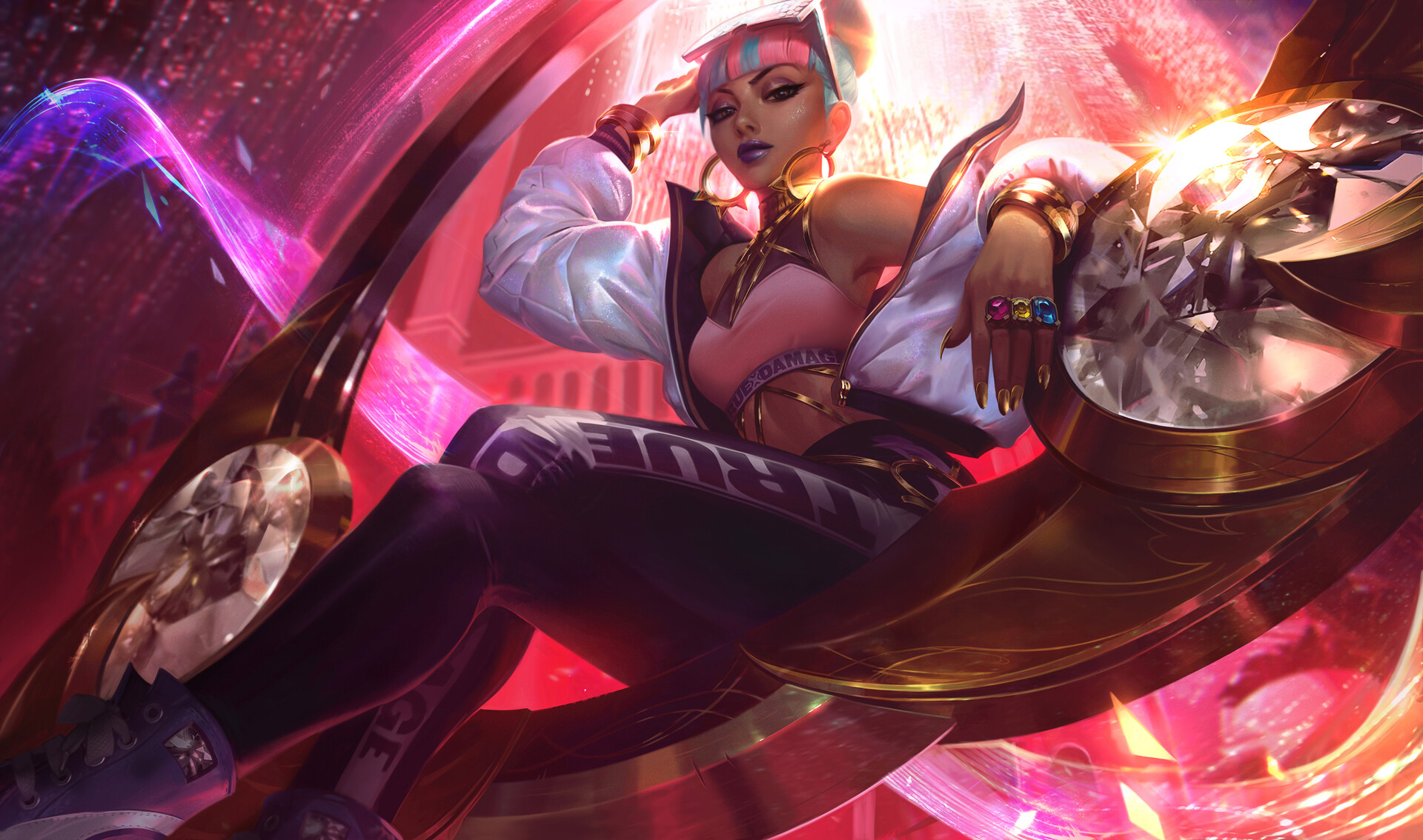 Spirited away
Hey everyone, This is part two of my Reimagining Studio Ghibli series where I reinterpret a moment or a character in my own way. For this video, I wanted to do a moment from Spirited Away that I liked a lot.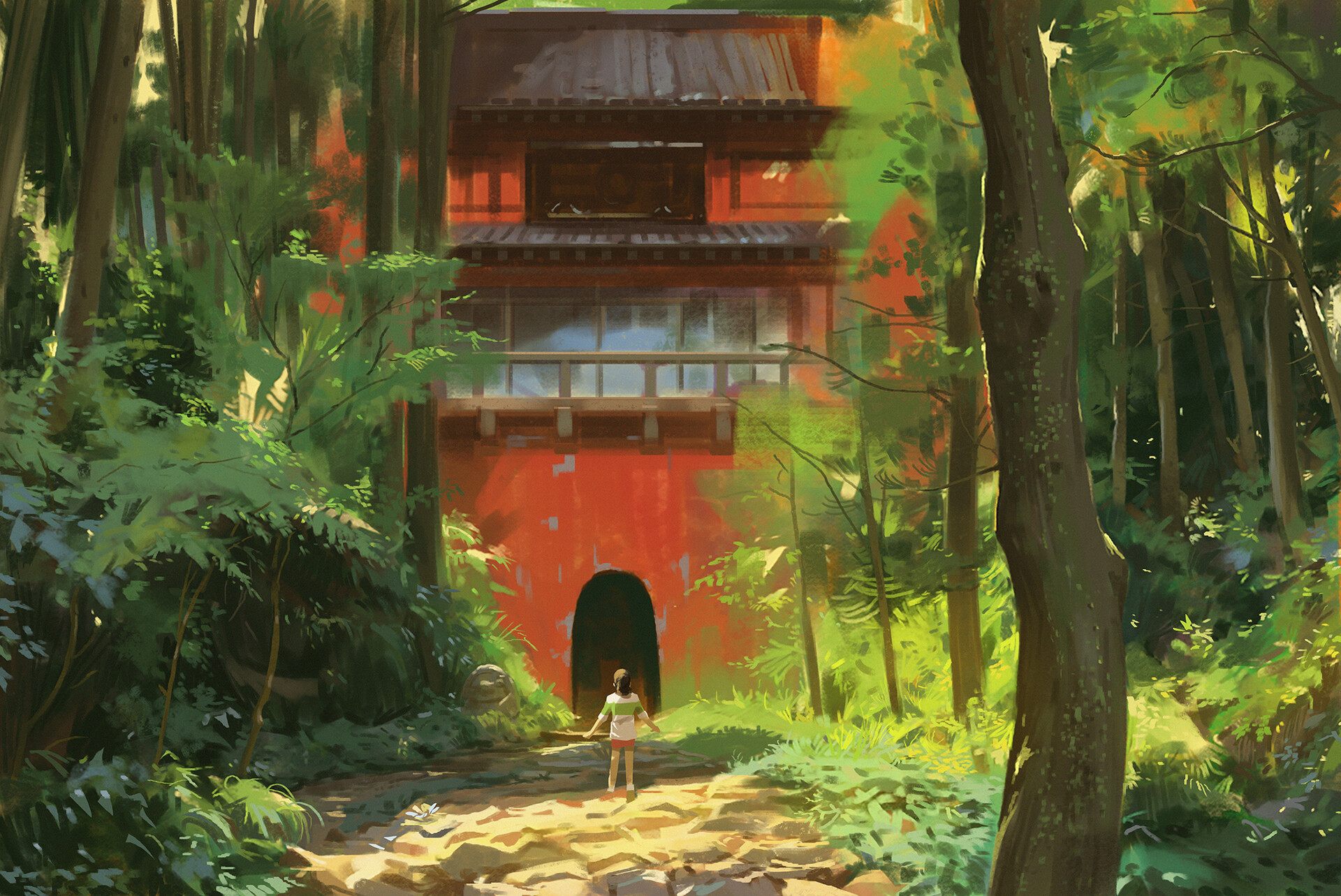 Kiki's winter delivery service
I wanted to do a three-part series where I do my own take on Studio Ghibli characters and moments that I loved from their movies. I wanted to start off the first episode with Kiki's Delivery Service.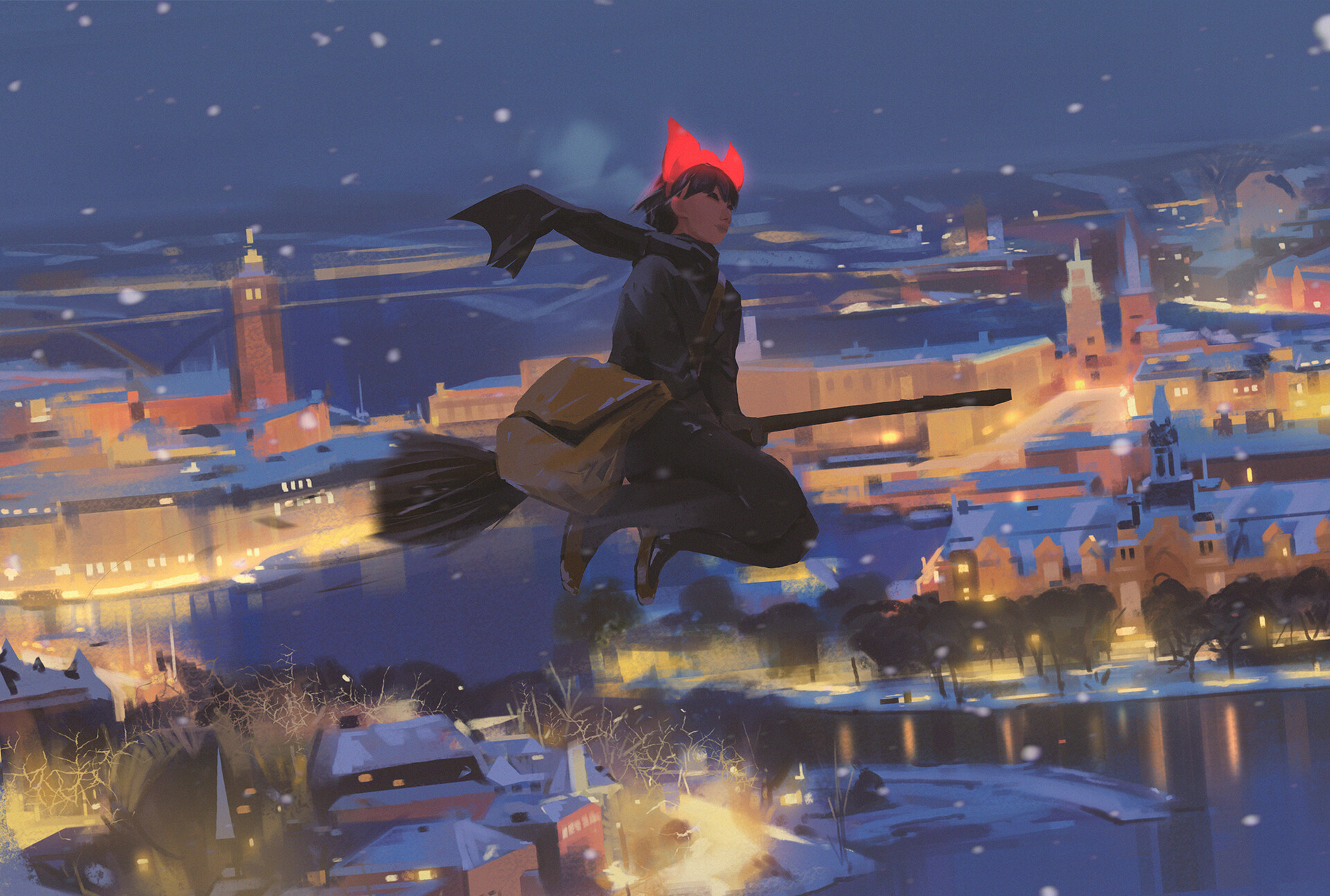 Scavenger
Hey everyone, this is was painting was done when I was trying out a new tablet, it was super fun! ,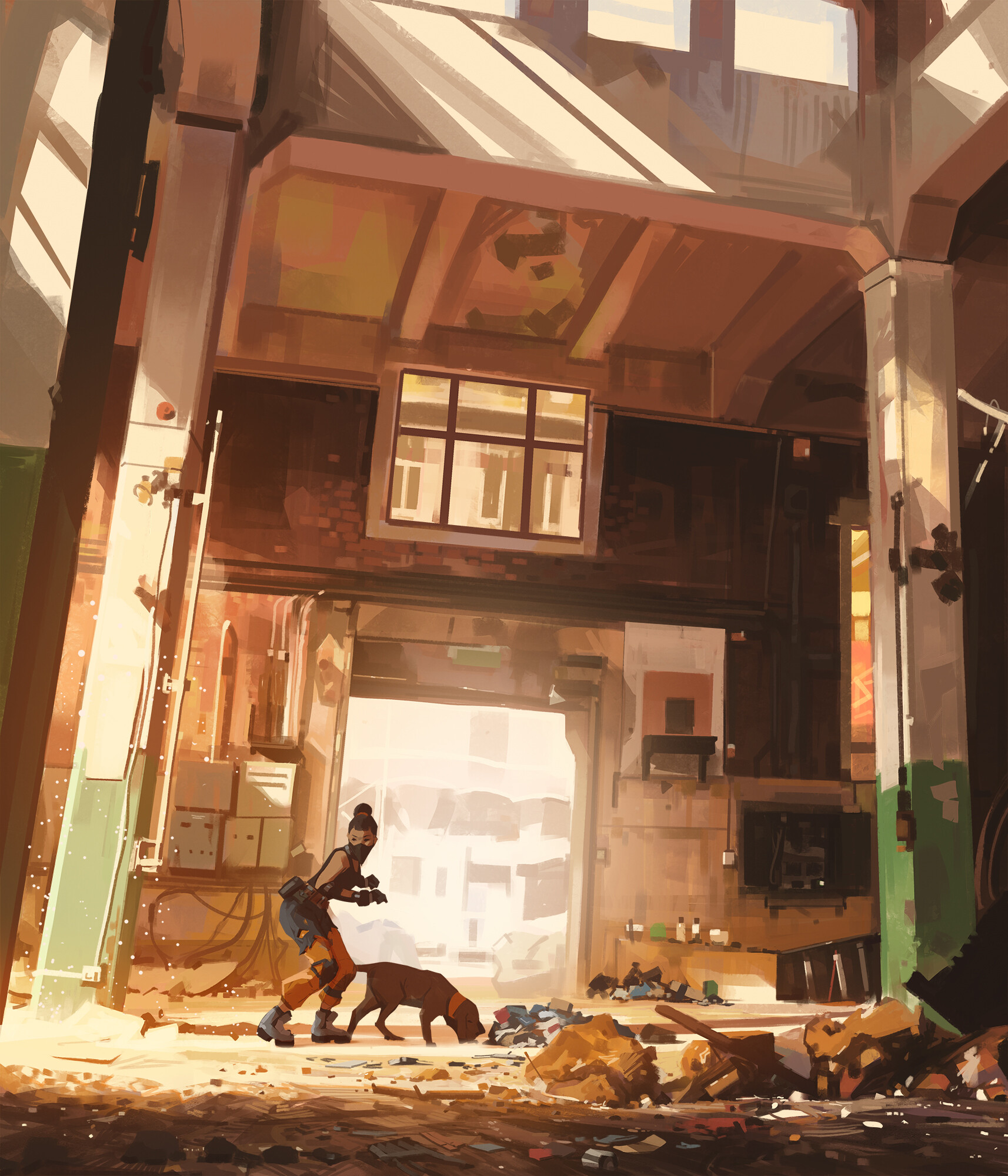 Fishing trip
Hey everyone! for this weeks video I wanted to paint something from my personal project which I'm turning into a game, it was super fun, hope you enjoy the episode and have a great weekend!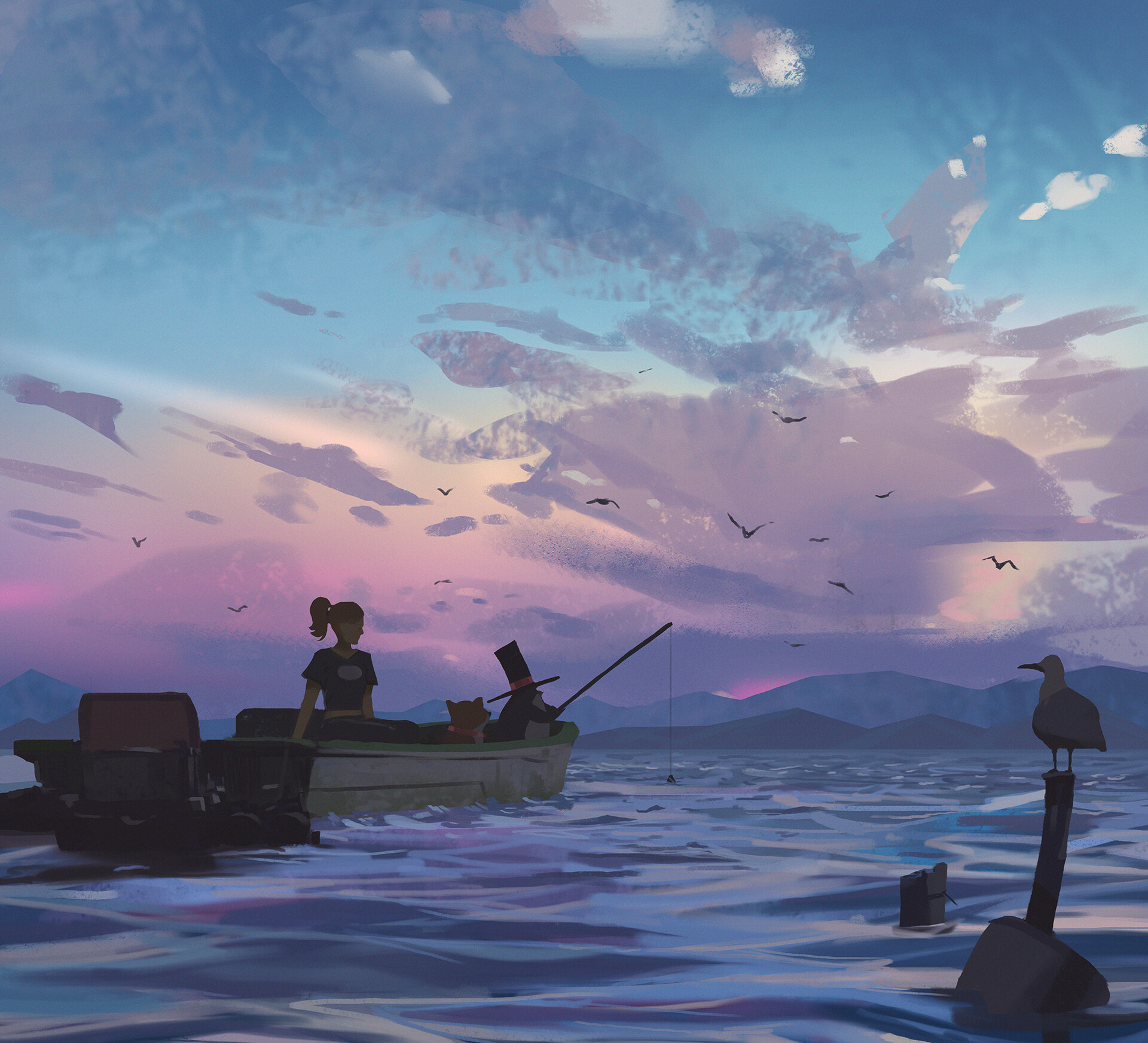 Ring
Hey everyone! for this weeks video i wanted to jump on in Oktober a bit early and paint it up in photoshop it, it was super fun, hope you enjoy the episode and have a great weekend!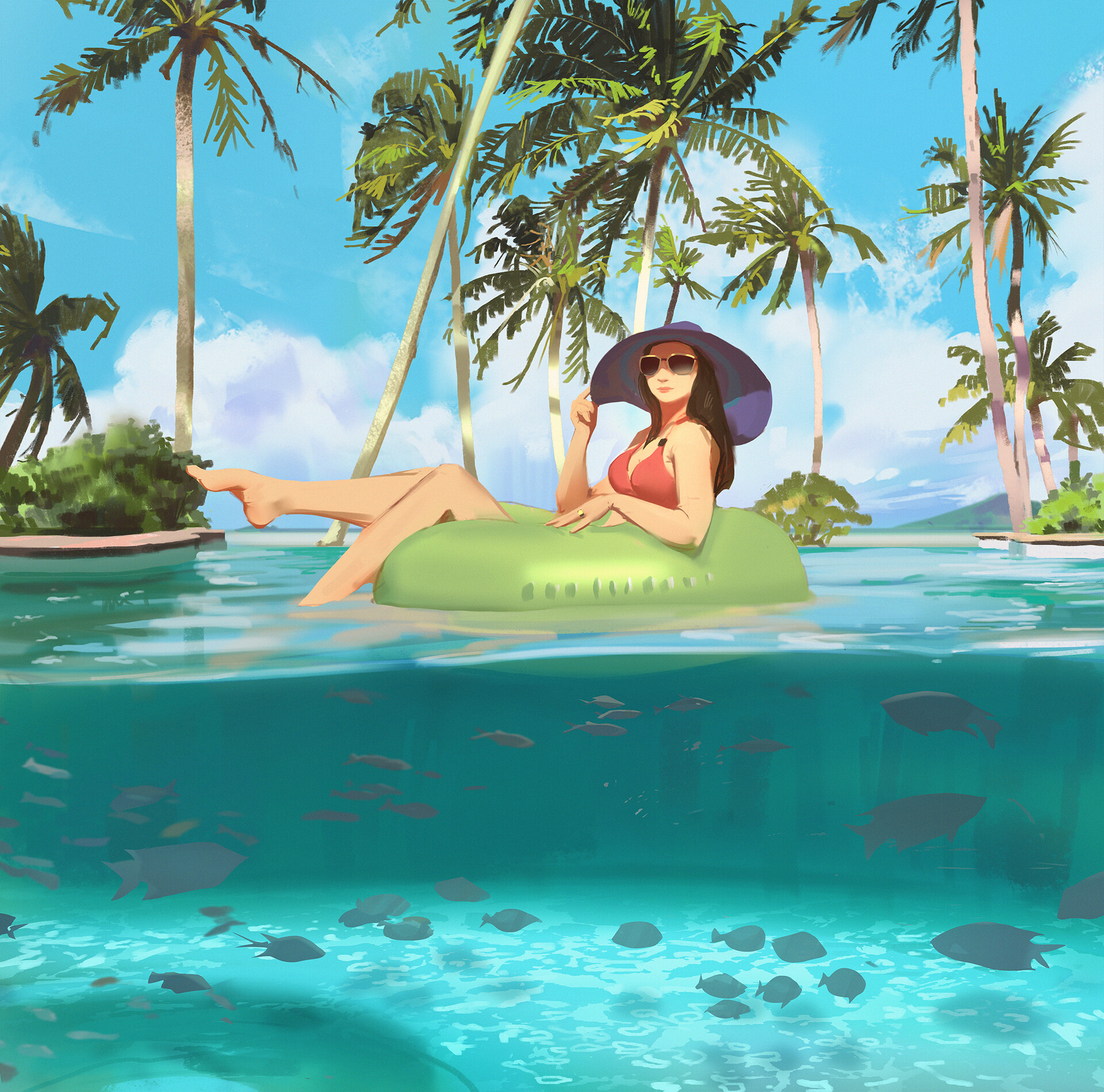 The Girl Who Loved Tom Gordon
Hey everyone! I recently read a book by Stephen king that i really loved, the covers were a bit older so i thought it would be fun to paint my own version inspired by the book, i had a lot of fun and i hope you enjoy the episode!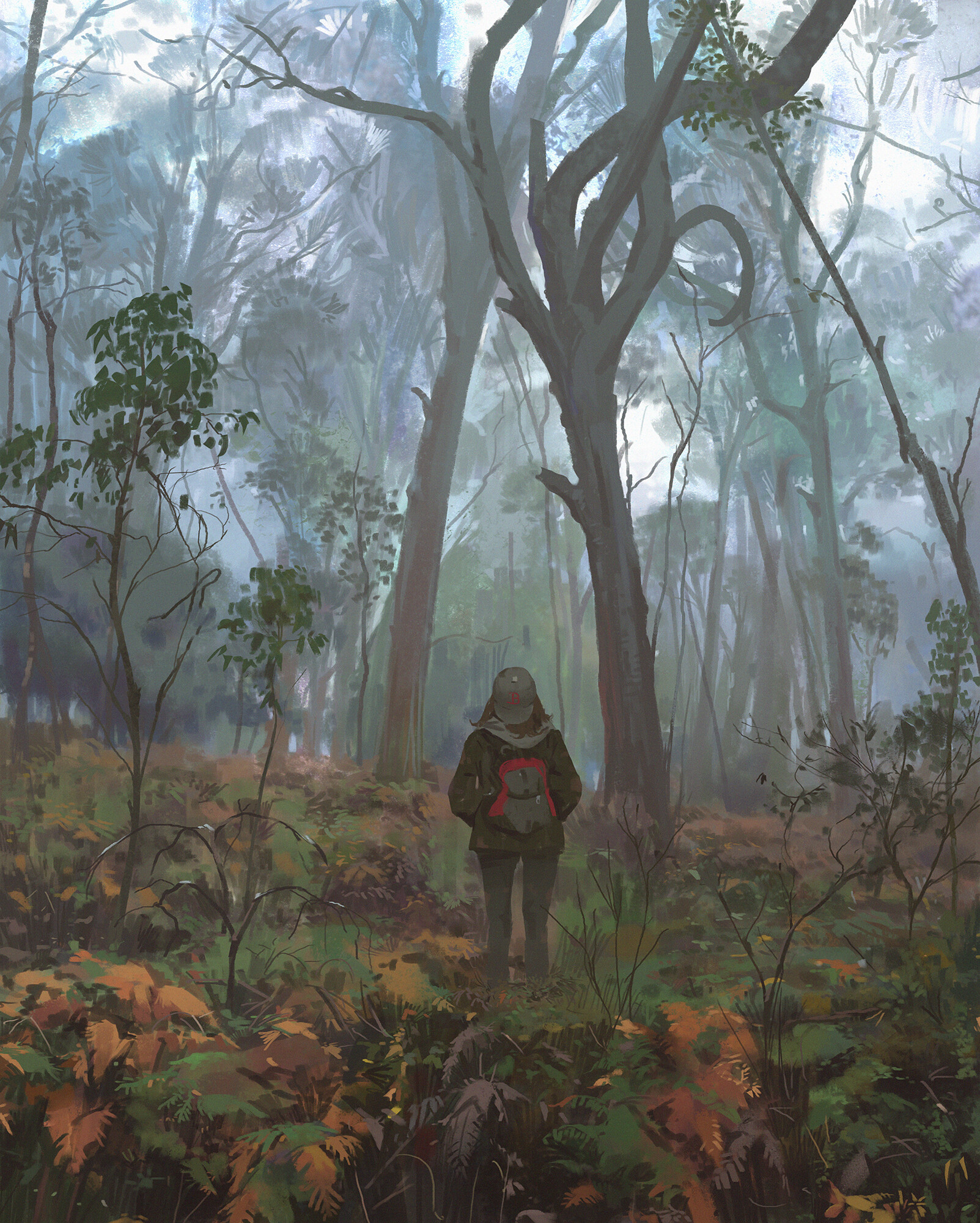 Grand Canyon
Hey everyone! recently took a road trip with my wife to grand canyon and was really inspired to make a painting from it, i wanted to share in this weeks episode how you can find inspiration for your next painting as well, hope you enjoy the episode and have a great Friday!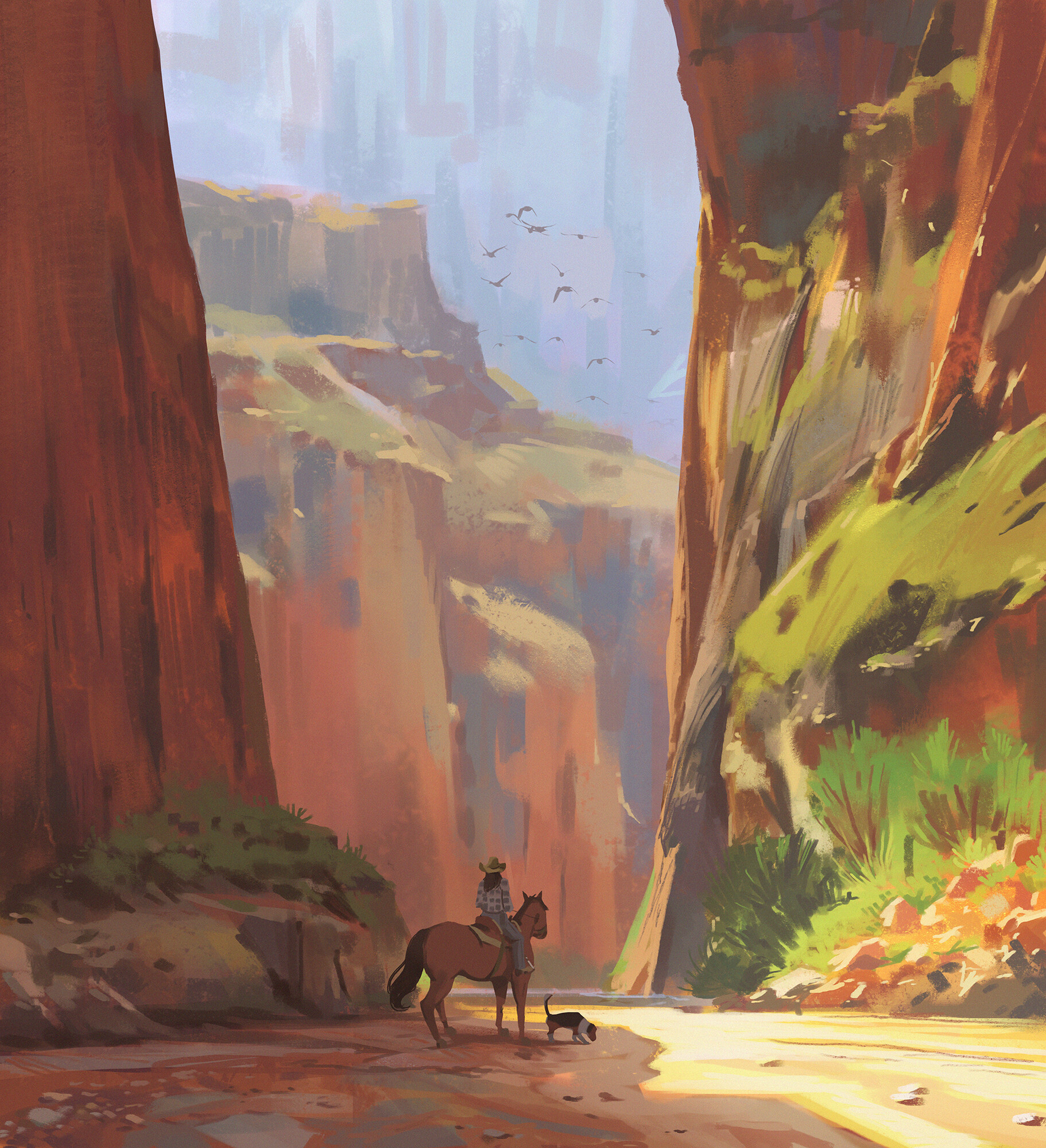 Demon slayer
Hey! been recently watching Demon slayer and I really love it! thought it is fun to do some fan art inspired by it and I also wanted to share how you can speed up your process by using textures in this week's episodes, you enjoy the episode and have a great Friday!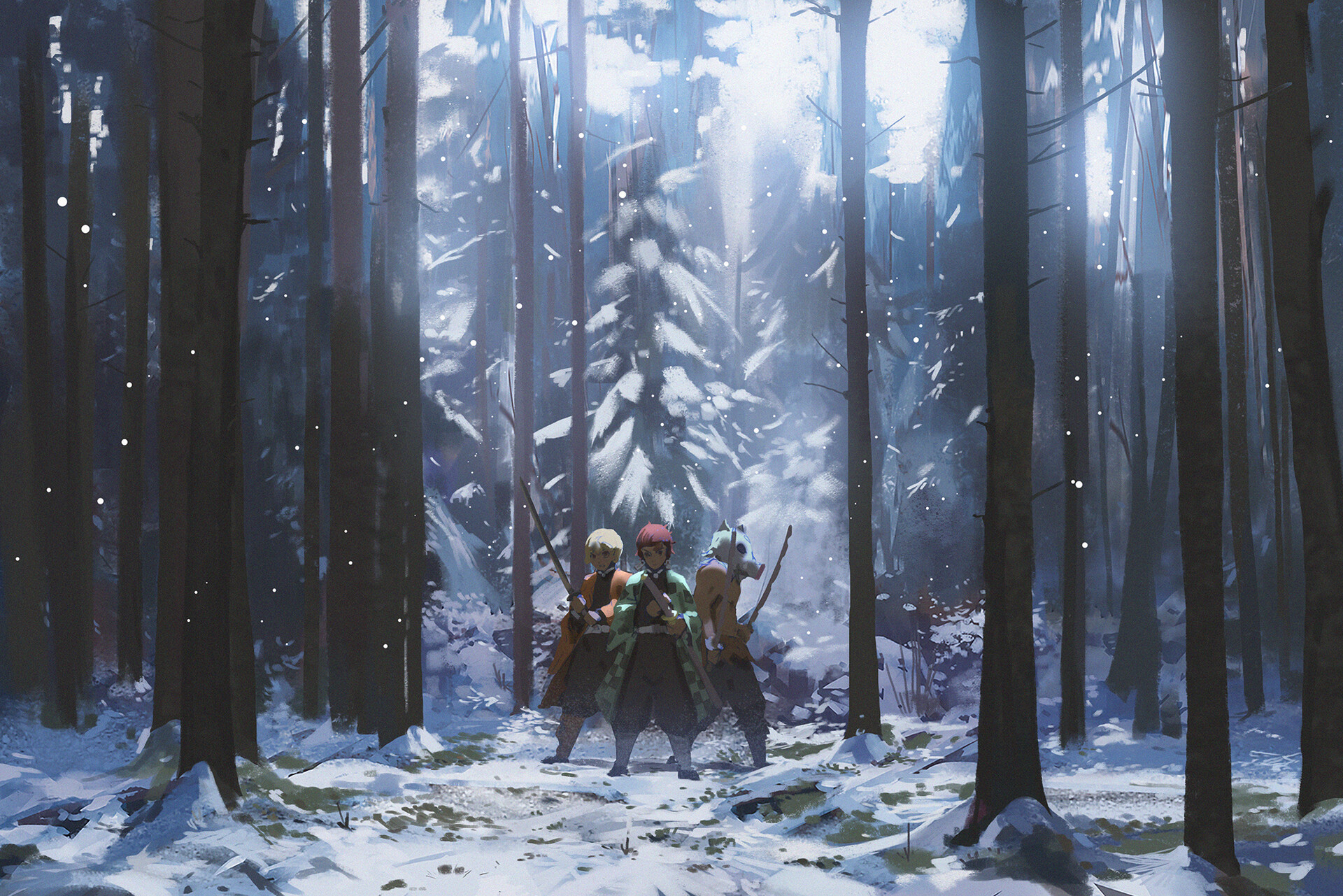 First swim of the summer
Hey everyone! for this weeks video I wanted to repaint one of my older drawings and see what I would do to it, it was super fun, hope you enjoy the episode and have a great weekend!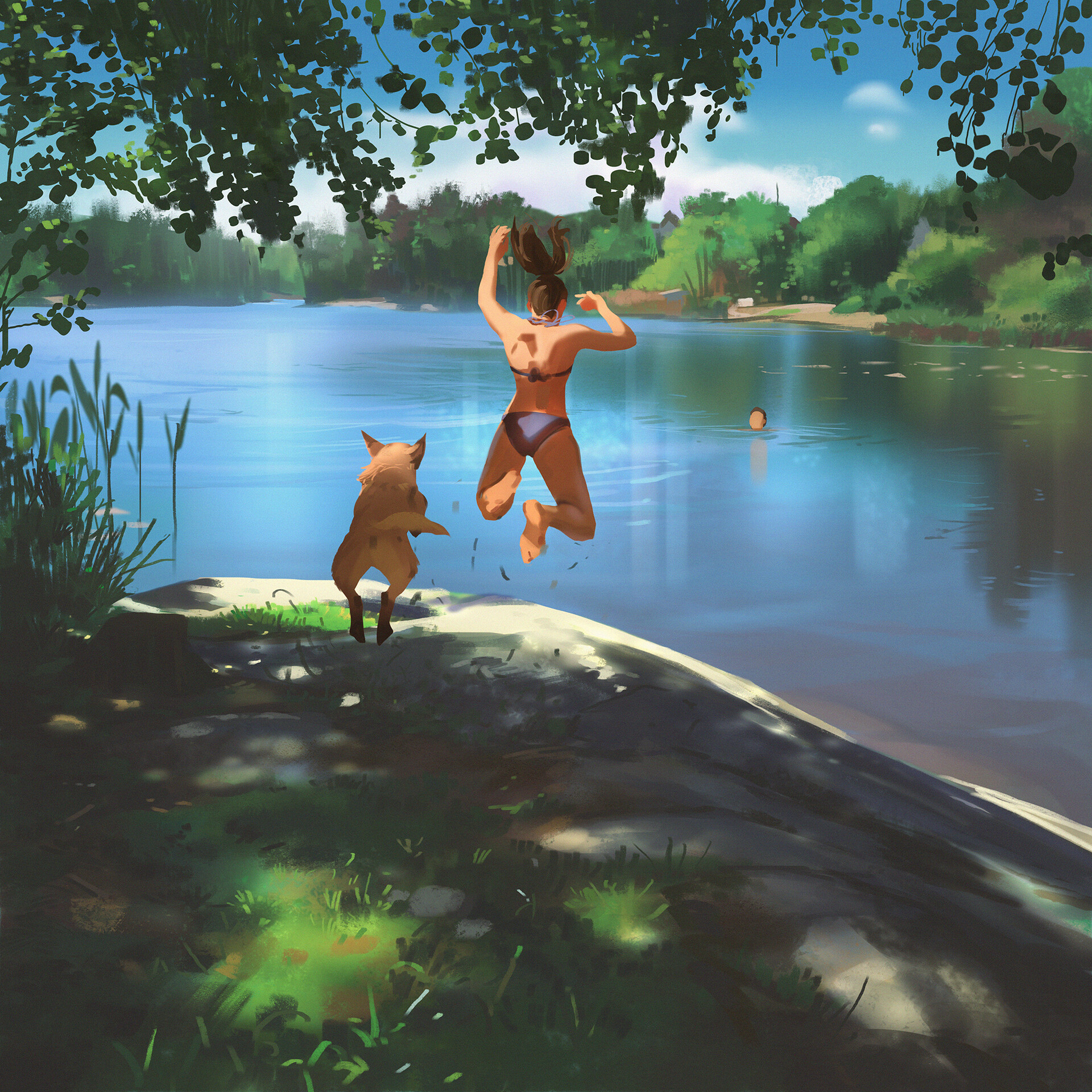 Nightelf hunter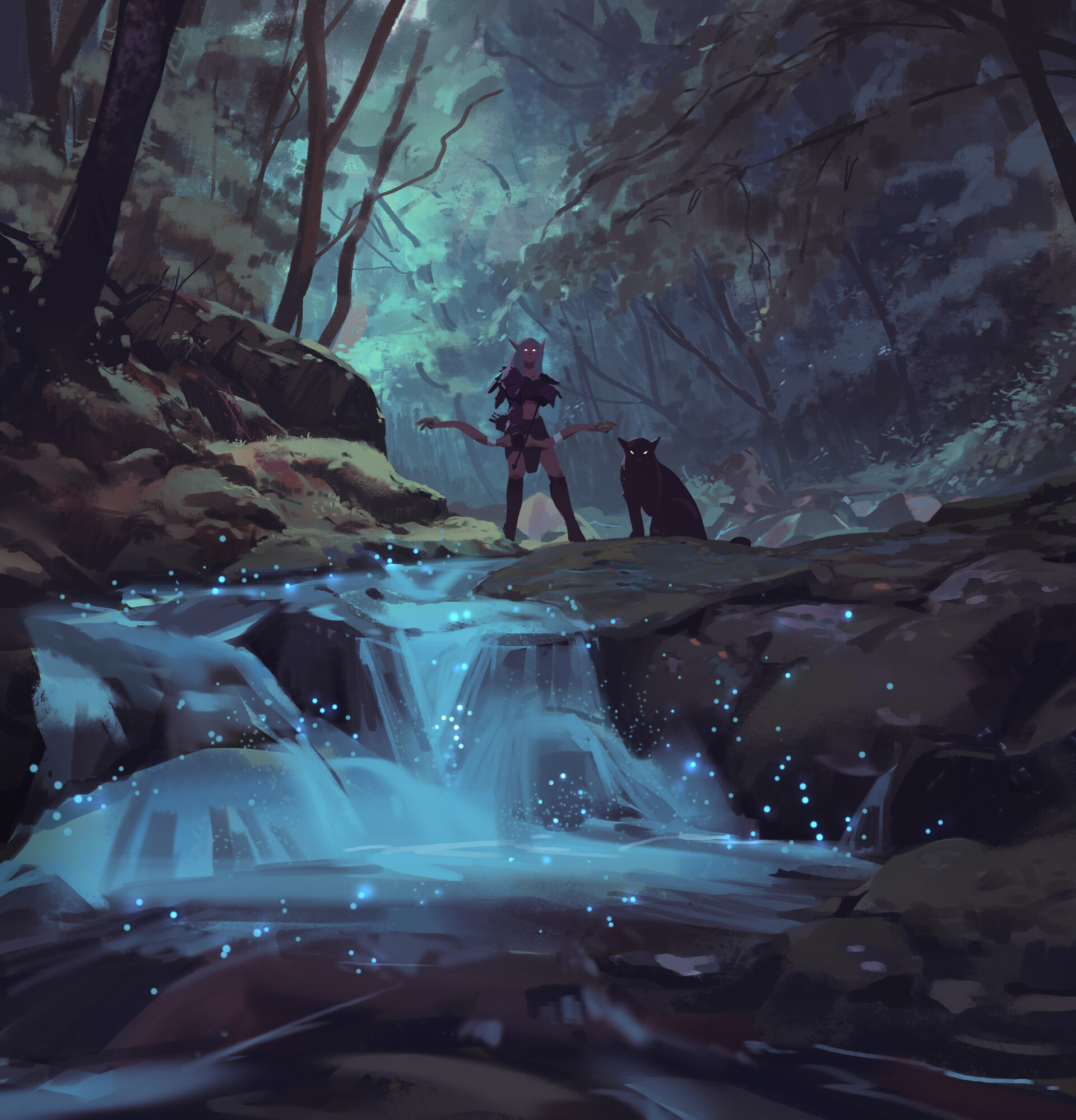 Feeding the birds
Hey everyone! I put up a new episode on youtube – I wanted to share how I like to approach adding color to a drawing. Hope you like it!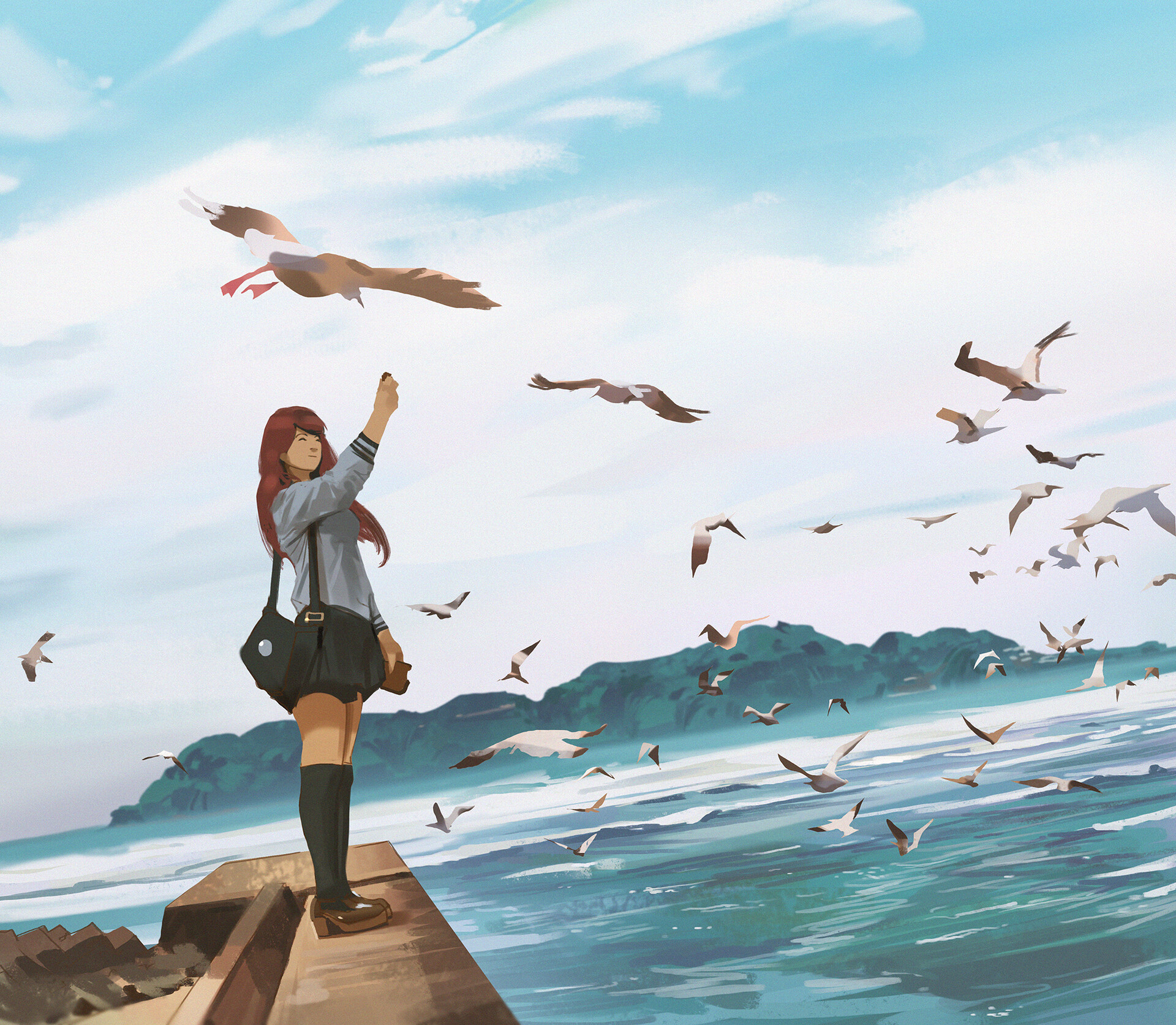 Evangelion – Asuka
Hey! I've been watching Evangelion for the first time recently and had to do something inspired by it for this weeks episode, I wanted to share a bit of how you can use sketchup in your workflow, hope you enjoy the episode and have a great weekend!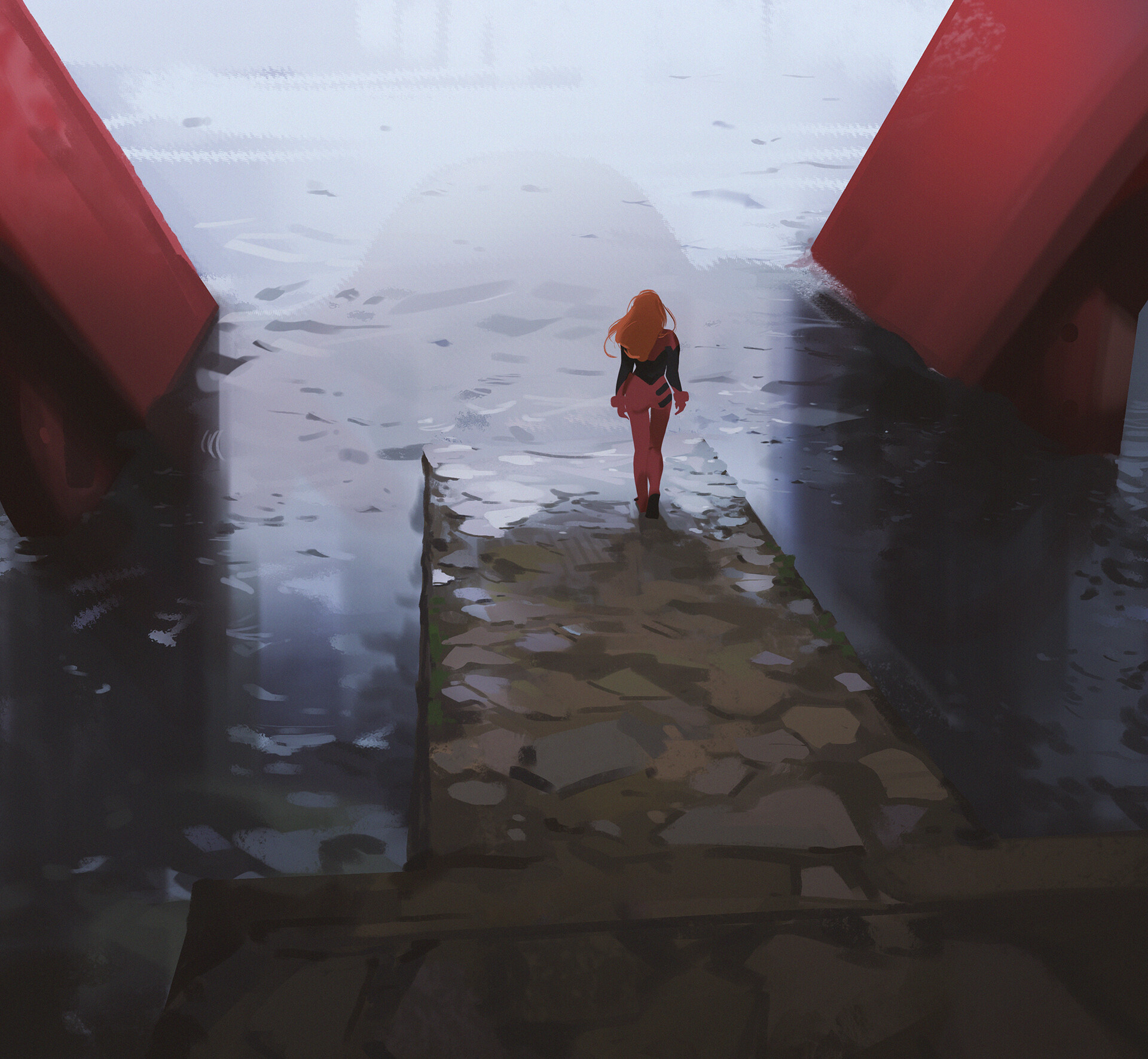 Neon rain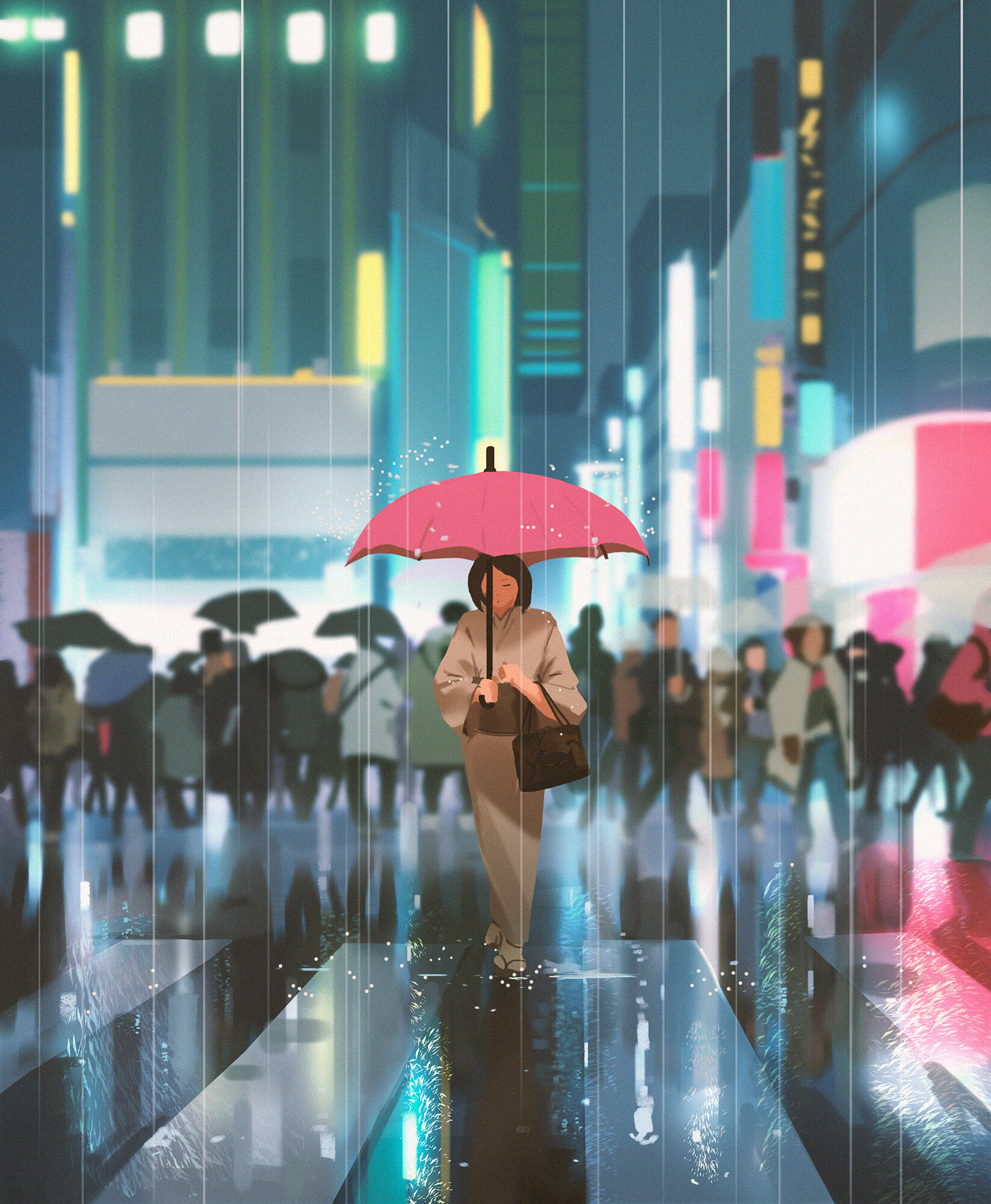 How to overcome ARTBLOCK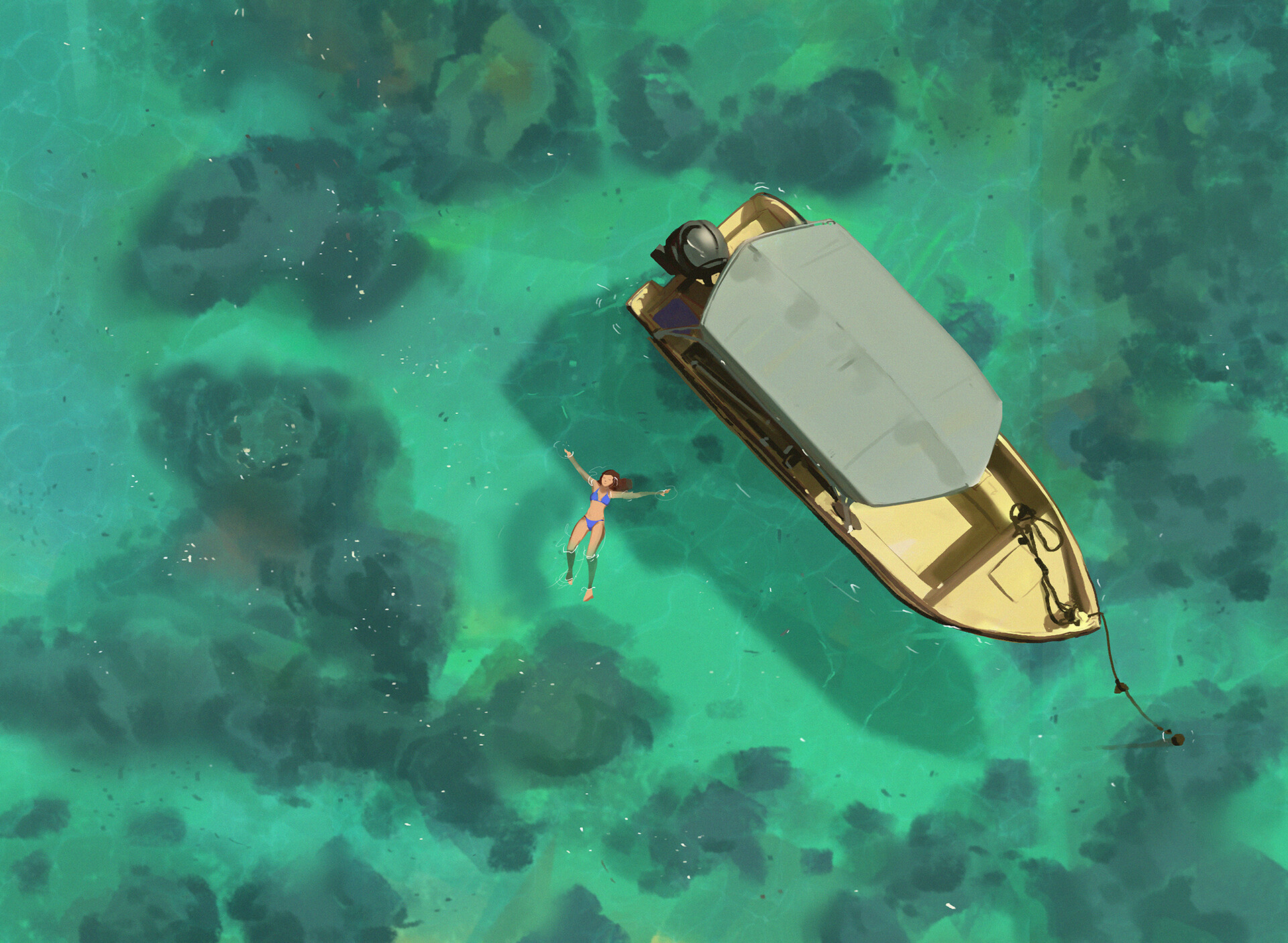 Project Akali – League of legends
It was super exciting to work on the splash for Project Akali! I also uploaded the process on Youtube, be sure to check it out!
As always, a huge thanks to everyone who gave feedback and helped along the way, and extra thanks to Jeremy who helped with rendering for a while when I had to switch to another illustration before I could jump back to Akali.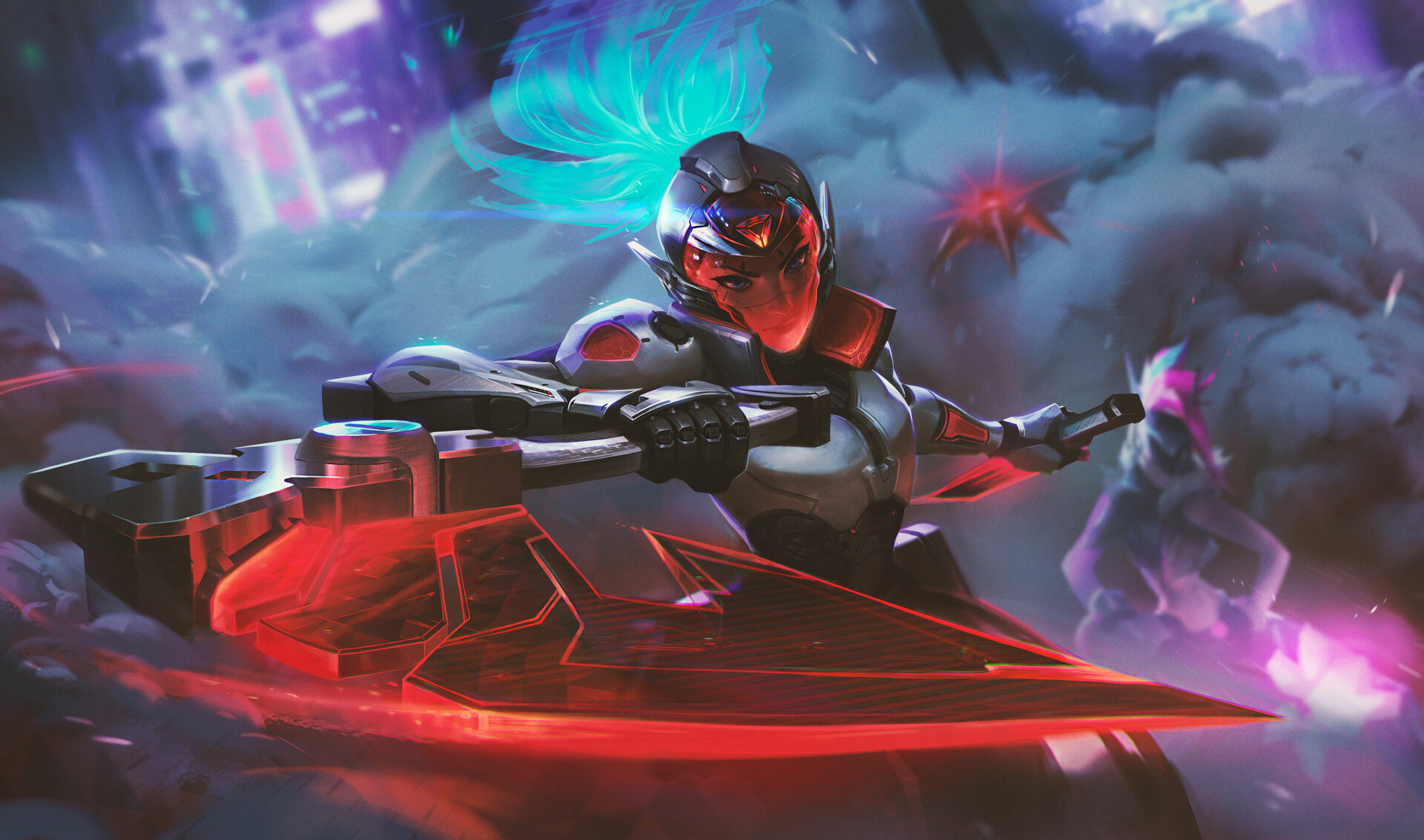 Train station

Lazy cat

Sky Whales

Yamper and nessa

Princess Mononoke
Hey everyone, wanted to do a Mononoke painting and share some my thought process on things that help you improve your own workflow on youtube, be sure to check it out if you are interested,

Empress of the Elements | Qiyana
Hey everyone! painted the base splash for Qiyana, this was such a fun a and new experience! i feel so lucky to have the amazing co-workers i have that helped with feedback along the way, she will be out soon, be sure to give the Queen a try! i love playing her! I put up a video on youtube sharing some of my thought processes if anyone is interested, Thank you!

Sketching at the botanical garden

Progress on the game im working on

Baldwin hills

Corgi Beach Day

Battle Academia Katarina
Painted the splash for Battle Academia Katarina, was so fun! huge fan of the thematic, could not have done it without the incredible support from the pod and my co-workers who helped me along the way, be sure to check out the other skins for the thematic!

Sketch collection 4 2019

Sketch collection 3 2019

Transcended Kayle
I had the opportunity to work on the splash for Transcended Kayle, formerly known as unmasked. It was so much fun and challenging, as always I got amazing feedback and suggestions from splash team to help push it to final. Super excited to play her once she is out! Be sure to check out the other splashes, was a huge effort from the whole splash team.

Sketch collection 2 2019

Sketch collection 1 2019

Sketch collection 29 2018

Sketch collection 28 2018

Winter wonder Neeko
Hey everyone, had the chance to work on launch skin for Neeko, got amazing feedback and suggestion from the whole Neeko pod and the splash team to help push it to final, please try her out on the PBE, i love playing her!
Thank you all for looking!

Sketch collection 27 2018

Sketch collection 26 2018

Sketch collection 25 2018

Sketch collection 24 2018

Sketch collection 23 2018

Sketch collection 22 2018

Sketch collection 21 2018

Sketch collection 20 2018

Sketch collection 19 2018

Sketch collection 18 2018

Sketch collection 17 2018

Sketch collection 16 2018

Sketch collection 15 2018

Sketch collection 14 2018

Sketch collection 13 2018

Sketch collection 12 2018

Sketch collection 11 2018

Sketch collection 10 2018

Sketch collection 9 2018

Sketch collection 8 2018

Sketch collection 7 2018

Sketch collection 6 2018

Sketch collection 5 2018

Sketch collection 4 2018

Sketch collection 3 2018

Sketch collection 2 2018

Sketch collection 1 2018

Mafia Miss Fortune splash for League of Legends
I had the chance to work on updating the old Miss Fortune Splash art, a big thanks to my amazing co-workers and especially the champ up team who helped me a long the way with some great feedback! I had so much fun on this image and i felt like i learned so much, hope you enjoy it, be sure to check out the final version in-game!

Recent sketches 11

Recent sketches 10

Kikis express delivery service

Recent sketches 9

Recent sketches 8

Recent sketches 7

Recent sketches 6

Recent sketches 5

Recent sketches 4

Recent sketches 3

Recent sketches 2

Recent sketches

Princess Mononoke fanart sketches

Catwalk

Sketches 2

Path of Miranda – Pilot episode
A first attempt in trying to find a visual way of representing my personal project, Path of Miranda.

Sketches

Daily sketching 4

Youtube video 2 – Silent hill
Hey everyone, new youtube episode is out, Link is below, hope you will enjoy it!

Thank you!

superfriends challenge – Artificial Intelligence
for superfriends challenge, the theme was artificial intelligence, was really fun!

Daily sketching 3

Daily sketch_2

Superfriends challenge – Halloween horror
This time around for the super friend's challenge, the theme was Halloween horror, Didn't turn out the way I had hoped but on to the next.

Daily sketching_1

365 days of sketching

307/365 snow path

305/365 Cat of the canals

299/365 Jurassic Park

298/365 howls moving castle

295/365 spirited away max

294/365 Tekkaman Blade

289/365 Rangers beyond the wall

283/365 tekkon kinkreet

282/365 Silent as a shadow

281/365 Peace and harmony

273/365 Last stop

270/365 Path of Miranda_outskirts

266/365 Blue sky

260/365 Toy story

259/365 zootopia – Judy

254/365 Lady Maria of the Astral Clocktower

251/365 The fly

246/365 Bloodborne 8

245/365 Cat and the pigeon

242/365 At night

240/365 Bloodborne 7

238/365- A Feast For Crows

233/365 Scouting party

232/365 Yellow forest

211/365 Ronin 2

209/365 Underwater2

208/365 row your boat

200/365 Headed that way?

196/365 on the run

190/365 Cat adventures – breakfast

179/365 At the temple

170/365 Put the chicken down

167/365 Lunch

166/365 Life as a mouse 3

164/365 farewell

162/365 bloodborne 4

161/365 rainy days

159/365 Coastline

157/365 Up the stairs

155/365 Volleyball smash

153/365 Daenerys Targaryen

152/365 Orca

150/365 Wings

149/365 Early morning

148/365 bloodborne 3

145/365 Geisha secrets

142/365 Bayonetta

141/365 Boba fett

139/365 Tracer

135/365 Exercise 2

134/365 Underwater

133/365 Urban life

131/365 Sunset

125/365 Attack on titan

124/365 You're asking for it

122/365 Halo – Ambush

119/365 World War Z

114/365 What are you?

110/365 Swimming with jellyfishes

108/365 Alone at night

95/365 Pumpkin

94/365 Countryside

91/365 Champion of the coliseum

85/365 Cat adventures – Archenemy

70/365 Cat adventures – the hunt

69/365 The journey 2

68/365 Strange encounter 4

54/365 Taking the dog for a walk

42/365 At the beach 2

37/365 Last days of summer

3/365 Ronin

31/365 At the beach

Dragon slayer – superfriends season 6

Path of Miranda #3 at the sushi bar

Demon hunter

Black blade

The hunter

Astenos
for Applibot

Tyler
for applibot

Threatening warrior advanced v
for applibot

Hazardous Mada advanced v
for applibot

Hazardous Mada
for applibot
All images used with permission by the artist. All images © Atey Ghailan or their respective copyright holder.